Dalai Lama Speaks At Lehigh Amidst Protests
WTXF-TV Fox 29, Jul 13, 2008
Lehigh, PA (USA) -- A sold-out arena greeted His Holiness the Dalai Lama on Sunday. Roughly 5,100 people attended his public lecture, "Generating a Good Heart."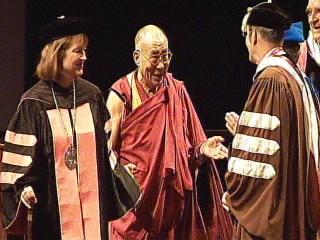 "I am happy and grateful to share some of my ideas, experience, my thoughts to you," said the Dalai Lama to the crowd.
He spoke about his three main commitments. "Number one commitment is emotional human value, the thing that supports our survival and happiness. These things I consider value. Number two, as a believer, as a Buddhist, trying to promote harmony among different religious traditions," said His Holiness.
His last commitment is to Tibet. He has wanted Tibet to enjoy self-rule or autonomy. Currently, the Chinese government sees him as a traitor for pushing his view. The Dalai Lama has lived in exile in India since fleeing his country in 1959 after a failed Tibetan uprising.
While thousands listened inside, hundreds of protesters demonstrated outside. They held signs and banners reading "stop lying, Dalai Lama." They are followers of Shugden, a particular Buddhist practice. More than 400 Tibetan and western Buddhist monks, nuns and practitioners from 16 different countries came to protest what they say is intensive discrimination and persecution of their religion by the Dalai Lama.
Kelsang Pema of the Western Shugden Society says she was in India weeks ago and witnessed terrible actions first hand. "Many people, thousands of people have been expelled from monasteries, attending shops, attending restaurants, education, they can't even get medicine," said Pema.
The Shugden followers are asking the public to scrutinize the Dalai Lama more closely.
The Dalai Lama spoke little about the politics of Tibet, saying only that since 2001, he has acted mostly as a "senior most respected advisor" after they began having elections. He even joked and said he was looking forward to "complete retirement."
His Holiness' historic journey to Lehigh actually started 10 years ago when the Tibetan Buddhist Learning Center in New Jersey asked the Dalai Lama to speak on a particular Buddhist text. They were looking for an intimate setting that holds just a few thousand.
Some like Lisa de la Vega from Lansdale came to learn more about His Holiness' teachings. "His teachings are very simple. His ideals are very simple. What spoke to me is when he talked about Americans and how we're always looking for the next thing."
Amy Miller has been studying the Dalai Lama's teachings for the past 21 years. "It's always a pleasure to be around the king of kindness."
Lehigh University presented the Dalai Lama with an honorary degree for his numerous accomplishments and for continuing to spread his message of non-violence and peace. His Holiness brought a chuckle from the crowd when he said how happy he was to get a degree "without much study."