'All of our hopes are now on you'
By Michael Duck and Genevieve Marshall, The Morning Call, July 14, 2008
Dalai Lama urges audience at Lehigh to change the world
Lehigh, PA (USA) -- The Dalai Lama, speaking to a sellout crowd Sunday at Lehigh University, urged young people to break free from their elders' mistakes and embrace compassion as a way of achieving everything from better sleep to world peace.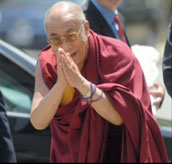 << The Dalai Lama arriving at Lehigh University
The Tibetan spiritual leader largely sidestepped political issues during his talk on ''Generating a Good Heart,'' focusing instead on how compassion can lead to less stress, greater understanding of other religions and even solutions to the global problems his generation will leave behind.
''My generation, I think, create[d] a lot of problems, left a lot of mess,'' he said, speaking without notes and through a thick accent to roughly 5,100 people at the university's Stabler Arena.
''Now your generation has to handle all of this in order to achieve a happier world -- peaceful world, compassionate world. Â? All of our hopes [are] now on you.''
Near the end of his talk, which was interrupted often by laughter and applause, he added during a question-and-answer session that reaching out to other religions is the best way to combat violent religious extremism.
''Sometimes in the West, [there is] some impression that Islam is something militant. Totally wrong,'' he said.
''Since [the] Sept. 11 event, I try to reach out to Muslim brothers and sisters. Â?They are wonderful -- Islamic people. Very warm-hearted. Very sensible,'' he said, adding that some Christians, Buddhists and Hindus are also extremists.
''These few mischievous people cannot represent whole traditions,'' said the Dalai Lama, who will continue lecturing at Lehigh through Tuesday on a 600-year-old Tibetan Buddhist text.
In his public talk Sunday, the Dalai Lama referred only in passing to the conflict between his Tibetan people and their Chinese rulers -- a struggle that has triggered worldwide protests in advance of the Beijing Olympics, which begin Aug. 8.
Demonstrations at Stabler so far have centered on the Western Shugden Society, which arrived Saturday and continued its protest Sunday. Instead of focusing on the conflict with China, that group protests the Dalai Lama's rejection of a traditional Tibetan Buddhist deity.
The Dalai Lama didn't mention the upcoming Beijing Olympics during his remarks and downplayed his role as head of Tibet's government-in-exile. He said his own cultivation of compassion and peace were the only reason he could sleep during the violent Tibetan protests and Chinese military crackdown in March that left 80 people dead.
''Since 2001, we already achieved elected political leadership,'' he said, referring to the democratic election of a Tibetan prime minister to run the government-in-exile.
Jokingly describing his position as ''semi-retired,'' he added, ''Now I'm looking forward to complete retirement.''
Despite his theme of passing responsibility to young people, most of his listeners were well into their adult years -- a fact the Dalai Lama jokingly observed while trying to find any young people in the front row.
The 73-year-old Tibetan leader often acted like the youngest person in the room, smiling broadly and frequently laughing at his own jokes.
''I feel like he's held onto his inner child his whole life. He has fun,'' said Kerri Mullen, a biology lab coordinator at Moravian College in Bethlehem.
The respected Tibetan Buddhist monk and scholar even cracked jokes as Lehigh President Alice P. Gast awarded him an honorary doctorate of humane letters.
''I appreciate [the opportunity to] receive this higher degree without much study,'' he said. ''Sometimes some university makes me a professor, [and] usually I say I am a hopeless professor. First, my knowledge is limited. And secondly I'm lazy.''
Many of the Lehigh students who attended Sunday's talk were members the Lehigh Choral Arts group, which performed a Tibetan song after the Dalai Lama's speech.
''It was this huge honor,'' said Alyssa Stein, a 19-year-old rising junior from Pennington, N.J. ''I really liked what he said about how he smiles at strangers -- because sometimes I do that too,'' she said.
Down-to-earth suggestions like those also resonated with Will Frece, a 21-year-old rising senior from Annapolis, Md., and another of the 60 student singers.
''He said a lot of things that we all think but we need to hear to realize how important they are,'' said Frece, who's taking home a lesson about compassion and how it's his generation's duty to bring peace to the world.
Making that a reality will take some work, though. Several rows behind Frece, 16-year-old Sean Napier of Buckingham Township, Bucks County, sat with his father, Lehigh math professor Terry Napier. As they waited for the crowds in the parking lot to thin out, the teenager pondered the Dalai Lama's teachings about compassion and nonviolence.
Asked how he hopes to apply that to his own life, Sean answered frankly: ''I don't know. It'll take some time.''