Tibetan monks to desend on Newmarket week of Aug 25
By Melissa Lattman, Seacoastonline.com, August 19, 2008
Sacred arts tour open to the public next week
NEWMARKET, NH (USA) -- Intricate sand portraits of celestial mansions, meditation and time with Tibetan monks are part of a sacred arts tour next week.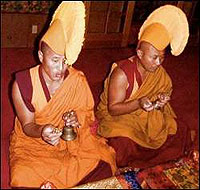 Coming to the Aryaloka Buddhist Center are several monks from the Gaden Jangtse Monastery, which has an almost 600-year history starting in Lhasa, Tibet in 1409. After the Chinese invasion of Tibet about 50 years ago, a new monastery was established in south central India.
"We have seen many pictures and stories about the Tibetan Buddhist monks over the years. We have read about Buddhist monks fleeing from Tibet to India to escape the Chinese cruelty. And so now to finally be able to spend a whole week with our visiting Tibetan monks is a lifetime experience. I am tremendously impressed with their courage and their dedication to human rights and religious freedom," said Stephen L. Cardwell, office manager at Aryaloka.
One part of the sacred arts tour is sand mandalas, a Tibetan Buddhist tradition that symbolizes the transitory nature of material things. The week-long ceremonies include building and destroying the intricate sand designs.
First, the monks draw the geometric design then apply ground, colored stones using small tubes, funnels and scrapers until they create the desired pattern. A team of monks will work on the design going from the center outwards. The destruction of the mandala follows a specific sequence tied in with the geometry and parts of the design. The sand is collected in a jar and transported to a river where it is released back into nature, according to information by Aryaloka.
The week of Aug. 25, the public will be able to come to the Aryaloka Buddhist Center in Newmarket and watch the sand mandala rituals. Creating the sand mandala will take place Monday through Friday from 9 to 11 a.m. and 1 to 3 p.m.
Dissolving the sand mandala will take place Saturday, Aug. 30 at 2 p.m.There will also be three evening programs with the monks open to the public. On Tuesday, Aug. 26, from 7 to 9 p.m., there will be a time of meditation and an evening talk on a way to train the mind to focus on compassion, wisdom and love. On Wednesday, Aug. 27, from 7 to 8 p.m., there will be an evening butter sculpture presentation with a chanting dedication. On Friday, Aug. 29, from 7 to 9 p.m., there will be an evening guided meditation and Tara puja or liberation from sorrow.
The North American tour, which started last fall in California, is an opportunity for the monks to share their heritage and raise funds for food and educational supplies.
For more information on the monks, go to www.gadenmonks.org and for more information on the Buddhist center in Newmarket and the week's events, go to www.aryaloka.org. The center is at 14 Heartwood Circle off of Shady Lane. Its phone number is 659-5456.