Clear the mind with Buddhist Meditation
By Andrea Thyrring, The Signal, Sept 24, 2008
New Jersey, USA -- While many clubs at the College go unnoticed, the Buddhist Meditation group has managed to attract a steady following of students. The group, created in January 2007, contains both inexperienced and seasoned practitioners of meditation.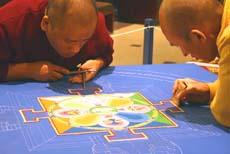 << The Buddhist Meditation group lent a hand hosting Tibetan monks in their visit to the College last semester.
Media Credit: Andrew Zabolotsky
Meeting on Thursdays from 11:30 a.m. to 12:20 p.m. in the Spiritual Center, the Buddhist Meditation group offers a way to relax and find inner peace.
The group has been under the direction of Jess Row, assistant professor of English, since its inception.
A typical meeting lasts about 50 minutes. Each person receives his or her own meditation cushion and sits with the group facing in a circle. The practice opens with a meditation instruction, in which the proper posture and etiquette for meditation are outlined.
Then, the students are led through a series of chants to prepare the mind and spirit for meditation. During the 20-30 minute sitting period, students focus their thoughts inward, and work on relaxing the mind. Afterward, Row reads an excerpt from a Buddhist text and offers insight on its meaning.
Row practiced at the Chogye International Zen Center in New York for 10 years, and was certified in 2004 as a dharma meditation teacher.
"After I started teaching (English) at the College, I wanted to bring meditation to the community I was a part of, so the next semester, I created the Buddhist Meditation group," Row said.
Hoping to find like-minded people he could share his practice with, Row began with seven to eight students. Since then, a number of the original members have graduated. However, those who remain are still faithful in their practice.
"I came to the first (meeting) he held in spring of 2007, and I have come to every one since," Dan Mutter, senior philosophy major, said.
"I honestly needed to get my mind blank," Melissa Maya, junior biology major, said. Maya became interested in Buddhist meditation after practicing yoga on campus.
"There is just so much on our minds and stress that is in our everyday lives, that a good breather is definitely worth it," she said. The weekly meditation provides students like Maya with a steady schedule to practice relaxtion techniques.
The Buddhist Meditation group remains unrecognized as an official school group, and does not receive financial support. Therefore, the group is unable to bring in speakers or sponsor any major events of its own.
"We would love to bring in more Buddhist speakers," said Row. "But it depends on our funding and the cost of travel expenses."
Still, Row remains positive the College would support expanding the religious learning community, should the opportunity present itself.
Since they are not able to hold their own events, the members of the group have been supportive of related campus initiatives. Last year, when the College hosted the Tibetan monks who created a sand mandala in the New Library, the Buddhist Meditation group played a large role in the monks' stay.
"It was exhausting, but very rewarding," Row said. The group volunteered to bring the monks their tea and meals, among other responsibilities.
The Buddhist Meditation group officially meets once a week. Since Row is both a professor and member of the Campus Ministry Board, it is difficult for him to organize additional times to meet.
"Other religious groups have a full-time clergy member as their adviser," he said. Some students, however, meet on their own during the week to continue their meditation practice.
Row encourages students of all experience levels to come to the meditation. "The most important thing is to have a place to meditate, and to have a consistent date and time to rely on."
Maya, as someone new to meditation, agrees it is something that requires dedication and practice. Mutter, now in his fourth semester of practice, has a slightly different perspective on maintaining his routine: "I keep coming back because it provides me with a chance to deepen my practice, helps get other people interested in Zen - and because Jess is a good teacher and a cool guy."