Monk on a mission
by CONNIE JENKINS, The Saratogian, Jan 30, 2005
Amid the devastation of a massive tsunami in a foreign land, a local college student is following a spiritual journey that allows him to be a conduit for compassion.
Darmouth, NH (USA) -- Michael Mina, the 21-year-old son of Margery and Paul Chessare of Greenfield Center, traveled to Sri Lanka this fall as part of his pre-med studies at Dartmouth College. When the Dec. 26 tsunami struck, he decided to raise $5,000 to help some villagers rebuild their homes. He sent messages to friends, family, classmates -- anyone who might want to help.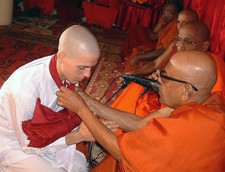 'As of today, I have collected about $10,500 U.S. dollars, and the number is sure to go up at least a bit,' he wrote by e-mail on Friday. 'I'm really very excited about how much I was able to raise. Every little bit truly counts and in the end really adds up!'
A 2002 graduate of Saratoga Springs High School, Mina is exploring his interest in Eastern philosophy. On Jan. 8, he was ordained a Buddhist monk and was given the name Mahinda.
'On the 7th of January, there was a small 'perahera,' or parade celebration, in which I was dressed up in a traditional Sri Lankan king's outfit and walked with a few hundred people from the village down the mountain, up to Rockhill Hermitage and a newly constructed Buddha shrine where I was honored to give the first 'puja,' or offering to the Buddha. This is an offering of gratitude, much as someone would thank their parents for all they have done,' he wrote.
The next morning, he dressed all in white and was given a purification bath. His head was shaved.
'I then had the real part of the ceremony, where I asked the high monk or my 'preceptor' to ordain me, and he gave me the robes into which I was to be dressed. Some other monks helped me with the robes, as they are quite confusing to wear at first.'
Mina became a monk by vowing to live by 10 precepts. They are to abstain from the taking of life, stealing, non-celibacy, lying, ingesting intoxicating drinks or taking other drugs, taking food at unreasonable times, dancing, singing, music and other entertainment, wearing perfume, garlands or other beautifying agents, using high or large beds and chairs and the exchange of gold and silver (currency).
'Some of these are clearly outdated and have more or less been amended by the sangha (community of monks). Things like the use of money and dancing/singing are rather lenient now,' he wrote.
Nothing about becoming a monk is permanent, and it is possible to disrobe at any time. Also, being a monk is not a religious lifestyle, as Buddhism is not a religion but rather a philosophy and way of life, Mina said.
'Now, I spend my days in robes,' he wrote.
Bhant, the head monk, will formally teach him Buddhism and meditation. Mina is getting an experienced guide -- Bhant has been teaching since he was 12 years old.
Mina's family is Jewish, but he's very happy with Buddhism, saying, 'It's all about compassion, patience and discovering one's true self and the true nature of the world.'
His daily routine is to wake up at about 5:15 a.m. or so, have a cup of tea and meditate for an hour. Whenever possible, he exercises a bit with a 'bear bar,' as it is known at Dartmouth, a bar with cement-filled cans on the ends.
'This is now really the only way I have to stay fit and healthy, as I can't exactly go out for a run in my robes,' he said.
The monks eat each day within a 4-hour period and then fast for 20 hours.
'The reason for not eating after noon is so that one may not have his time occupied with thoughts of food and whatnot and can rather spend the time in meditation. Also, when you eat, you become drowsy, which isn't so good for a meditator,' he wrote.
Twice a week, he teaches English to villagers, then he sweeps the paths and does other chores.
'Sweeping is very important to monks, as it can be used as a sort of meditation and good peace of mind,' he said.
Mina intends to return to Dartmouth at some point to complete his degree in biochemistry. He wants to return to Sri Lanka to continue his Buddhist studies so he can eventually return to the United States and teach Buddhism and meditation 'to hopefully help people to settle down and bring peace to their crazy American (busy) lives.'