Buddhist Zen master brings his self to U.
by Jyotsna Mullur, The Brown Daily Herald, Oct 14, 2008
Providence, NY (USA) -- Smith Buonanno 106 lay in meditative silence on Friday afternoon as a Zen master named Bob, clad in dark blue robes and beige Birkenstocks, entered the auditorium to introduce the small crowd of about 20 to the teachings of a 101-year-old Zen Buddhism master.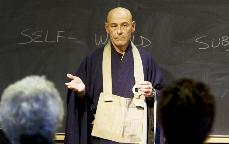 << Bob Mammoser, a Buddhist monk, spoke to a meditative crowd Friday.
Media Credit: Justin Coleman
Bob Mammoser, who became an ordained Buddhist monk in 1978, said it was essential to understand the current self in order to address life's difficulties.
"The self that I need to understand is the self in this particular moment," he said, because "the self is dynamic and changing."
Mammoser is a follower of Kyozan Joshu Sasaki Roshi, a master in the Rinzai sect of Buddhism. They practice a unique form of Zen known as Tathagata Zen, which emphasizes the understanding of self to solve problems in life.
He began studying with Joshu Roshi in 1974 at the Mt. Baldy Zen Center in southern California. Mammoser today is the abbot of Albuquerque Zen Center in New Mexico, which he founded in 1989. Friday's event was sponsored by the Brown Contemplative Studies Initiative.
Mammoser put Zen teachings into a modern context for Friday's gathering. He discussed the challenges of life: the choices people make on how to live, the difficulties and problems that confront them and the challenge of determining our priorities. Zen Buddhism, he said, is based on the insight gained from evaluating our situation, seeking to answer the question, "What fundamentally am I?"
The primary way to study one's self and understand one's experiences, Mammoser said, is meditation. Moreover, one cannot consider oneself as one meditates as just an object, Mammoser said, because that would be removing oneself from one's experiences. Rather, he advocated a more self-aware, introspective meditation.
"What am I experiencing in terms of the world around me?" he asked. "What am I experiencing in terms of the world within me?"
Through this process, Mammoser said that one can come to a consciousness of how to make a decision in life. "Consciousness is essential for human experience," he said.
Mammoser also delved into the more philosophical aspects of Joshu Roshi's teachings.
He described experience in terms of three aspects: the subjective, the objective and awareness. The subjective, he said, consists of the thoughts, memories and inner self, whereas the objective is the rest of the world. "You cannot have experience with just one or two of these components," he said.
Ultimate unity, a central tenet of Buddhism, Mammoser argued, is not possible since one cannot be aware of it. "It is nonsensical to say I am experiencing oneness with everything."
He spoke of the "dharmakaya," one of the main concepts of Tathagata Zen. The dharmakaya "has everything within it, but it's not in it," he said. "It is complete unity."
According to Tathagata Zen beliefs, the world is constantly dividing and reuniting into a whole on the order of millions of times per second. The dharmakaya exist, and then break down into the plus - the subjective and expanding components - and the minus - the objective and contracting components - and once again come together to form a new dharmakaya. "This interaction is completely spontaneous," Mammoser said.
He compared this cycle to numerous still shots, which ultimately combine seamlessly to form a movie.
In relation to everyday life, Mammoser characterized this relationship as the subject - the individual's past and inner feelings - expanding out to meet the objective world. Tathagata Zen, he said, focuses on parsing subject, object and distance in the midst of this impermanence. The result is a "sphere of sensations," he said, which is our sense of the world.
"The way to resolve your problems is to stop thinking you're a player in the problem," Mammoser said, emphasizing that the dharmakaya is dependent only on the subjective and objective.
"The resolution to a potential conflict is to manifest the selfless quality that is the nature of the process," he continued.
Humans need to step back and allow the subjective component to meet the objective component - for example, he said, parents can be good parents by allowing their inner thoughts and feelings to meet the parenting situation they face through the natural cycle of the dharmakaya.
By reducing our expectations from situations and our attachments to material things, the suffering in life goes away.
"You don't have to worry about protecting yourself when you are not latched on," Mammoser said.
"Buddhism promises an end to suffering," he said, though he did point out that pain cannot be destroyed.
He avoided adding any agents, like a supernatural force, or possessive concepts to the model he put forth, saying "Buddhism is rigorously clear about the fact that everything is empty."
Mammoser also emphasized that Zen Buddhism is not faith-based, and that greater importance is given to practice rather than standardized beliefs.