Infinite and beautiful
By Chris Bergeron, MetroWest Daily News Staff, February 24, 2005
Using tiny colored grains of sand, Buddhist nuns create, then destroy, sacred symbol
Wellesley, MA (USA) -- Jangchup Norzin is building the cosmos, grain by grain of sand. Since last week the saffron-robed nun has been sifting colored grains of sand through her fingers to create a mandala, a sacred symbol that reveals the mysteries of Tibetan Buddhism.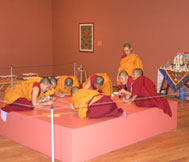 << Building the mandala - Day one
"It is a palace for Buddha," Norzin said through a translator. "We make the mandala to bring peace to the world."
She is one of eight Tibetan nuns who have come from Nepal to build and then destroy one of Buddhism's most singular artworks at the Davis Museum and Cultural Center of Wellesley College.
They have come from Keydong Thuk-Che-Cho-Ling in Kathmandu as part of "Circles of Healing, Circles of Peace: A Tibetan Mandala Project" at the college.
The Mandala Project was conceived and organized by Ji Hyang Sunim, who serves as Buddhist adviser to Wellesley students, in conjunction with Victor Kazanjian, the college's dean of religious and spiritual life.
Starting Feb. 16, the nuns have been working six hours a day making an intricately beautiful mandala, a series of concentric circles and squares with powerful symbolic associations.
The completed mandala will use grains of sand in four colors to portray complex figures and symbols that suggest the Buddhist belief the infinite is present in all things.
Through a translator, Norzin described the painstaking process of building a 6-foot-wide mandala as a "meditation that clears my mind and purifies my heart."
As she makes images with the sand, Norzin repeats a mantra, or Buddhist prayer, "Om mani padme hum" which translates as "the jewel is in the lotus."
Ani Ngawang Tendol, a nun who serves as the group's leader and translator, said four nuns were born in Tibet and the others are descended from Tibetan families living in India and Nepal.
Once an independent nation, Tibet was invaded and occupied by China in 1950. Since then China has renamed it Xizang province or "Western Treasure" and stifled religious practices.
Tendol was raised in India after her family fled the occupation of their Himalayan homeland. "Ani" is a title that means "sister."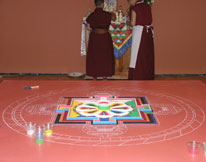 The mandala - Day six >>
The eight nuns are the first women trained to make mandalas, which traditionally were made only by male monks, she said.
Fluent in four languages, Tendol considered becoming a nurse but joined the nunnery after reading a book about the Dalai Lama, the spiritual leader Tibetans revere as a reincarnated God.
A bright-eyed woman with an easy smile, she said, "I felt very deeply I must give up any attachment to this world and help other people find peace."
Nun Kunga Chodron fled Tibet to escape religious persecution.
Raised in central Tibet, Chodron was 16 when she walked several hundred miles to study Buddhism under master teacher Thupten Tsering in India.
Through a translator she said, "There has been no religion and no freedom for Tibetans" under six decades of communist rule.
On her first trip abroad, Chodron said she was amazed to "cross the ocean in an airplane" and to see so many large buildings in the United States.
After completing the mandala, the nuns will dismantle it in a March 1 ceremony, placing the sand in Lake Waban in the Wellesley campus to represent the impermanence of all things.
Tendol explained mandala is a Sanskrit word for "circle."
At the circle's center, the nuns are making an image of the deity Avalokitesvara, the Buddha of Compassion. Tibetans regard the Dalai Lama as the 14th reincarnation of Avalokitesvara who delayed entrance to nirvana in order to enlighten humans.
During the U.S. visit, the nuns are staying at the Peace Abbey in Sherborn.
Relaxing on a snowy Monday morning, several nuns leafed through a book of photographs about the late Princess Diana as they sipped strong Tibetan tea.
Ji Hyang Sunim, who conceived the Mandala Project is an American-born convert to Buddhism.
Born in Westfield, N.J., she was raised as a Catholic and graduated from Wellesley in 1991 with a degree in English. She became interested in Eastern religions while studying in Hong Kong, practicing martial arts and reading Chinese poetry. She was ordained as a Buddhist nun, or "Sunim," in 1993 in a Korean Zen sect after years of study at the Cambridge Zen Center.
Ji Hyang, 35, said she was drawn to the Buddhist emphasis on compassion through her work during high school as an EMT, when she helped deliver babies, and after college working with AIDS patients.
"I realized life is so short. I wondered, 'What can I do to help,'" she said.
After an austere two-week retreat in Korea, Ji Hyang was ordained as a nun in the Kwan Um Zen School, pledging to devote her life to meditation and service to others.
"I had to develop my own clarity to help others. It is hard to surrender the ego. It's not hard to be a monk. The harder thing is to be a human being. It's hard to practice. It's even harder not to practice," she said.
Like other Buddhist nuns, Ji Hyang shaves her head "to simplify life and not to focus on what is external."
Since assuming her position at Wellesley a year ago, Ji Hyang decided to bring the Keydong nuns to the college to promote interest in Buddhist spirituality.
"The project really felt like it was meant to happen. I hope people use the mandala as an opportunity to find their inner wholeness and bring all their energies into balance," she said. "If we can purify ourselves, then we can help others."
"Circles of Healing, Circles of Peace" is presented at Wellesley College in cooperation with Trinity College.
Wellesley is hosting the following events in conjunction with the event:
# Feb. 16 - March 1: Creation of the Mandala takes place in the Davis Museum and Cultural Center. The museum is open 11 a.m. to 5 p.m. Tuesdays through Saturday; until 8 p.m. on Wednesday; and noon to 4 p.m. on Sundays. Admission is free.

# Thursday, Feb. 24, at 7 p.m.: A movie "Wind Horse" examines China's occupation of Tibet.

# Tuesday, March 1, at 4 p.m.: A closing and dismantling ceremony will begin at the museum and proceed to Lake Waban.

# Tuesday, March 1, at 5 p.m.: Circles of Light, Circles of Joy: Wellesley Theater and Wellesley Summer Theater celebrate the human spirit in poetry, song and dance at the Slater Center.
For additional information about the Mandala project or Buddhism at Wellesley, contact Ji Hyang Sunim at 781-283-2793 or at jhyang@mountainpath.com.