House 20 candidate discusses Buddhism
By Bob Stuart, Waynesboro News Virginian, July 22, 2009
Waynesboro, VA (USA) -- A victory in the suddenly wide-open 20th District state House race could make Erik Curren a minority of one. None of the General Assembly's current 140 members list Buddhism as their religion. Curren, the Democratic nominee in the 20th, is a practicing Buddhist who also attends a Methodist church.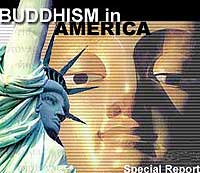 A prominent local Democrat, Augusta County Supervisor Tracy Pyles has raised Curren's faith as a potential problem in November, even as Republicans scramble to field a candidate in the wake of Chris Saxman's withdrawal from the race.
Pyles said Tuesday that Curren is a strong candidate, but erred in failing to reveal his Buddhist faith. Pyles said he spelled out his concerns to Curren during an April meeting with the candidate.
"I told him it could be a killer issue. It could be a tough one," Pyles said. "... [I]t is better to be out front and honest about things and trust people to make the right decisions."
Curren's campaign Web site makes a brief reference to religion, but says nothing about Buddhism: "Erik attends Crozet United Methodist Church with his fiancée Lindsay Howerton and her two daughters, Anwyn, age 14, and Chloë, age 12."Curren said he did not expect Buddhism to emerge as a campaign issue.
"The whole thing really surprises me," Curren said. "My religious faith is really important to me ... it's been an impetus and an inspiration to support the community and show empathy for others."
Curren began practicing Buddhism after inquiring into the religion more than a decade ago. He later authored a book, "Buddha's Not Smiling," exploring corruption among Tibetan Buddhist leaders.
More than two-thirds of the state House is split up between five mainstream Christian denominations, according to personal biographies listed on the General Assembly Web site. Five lawmakers cite no religion, three are listed as Jewish and one other as Unitarian. Twelve senators cite no religion, one is listed as Jewish and the rest are all Catholics or Protestants.But Virginia politics steadily are becoming more diverse, said Toni Michelle Travis, a George Mason University professor of Virginia government and the editor of the Virginia Almanac of Politics.
Travis cited a Latino House district in Arlington County and a Korean-American's candidacy this fall in Fairfax County. She also pointed to women taking leadership positions on state legislative committees.
Still, while Curren's Buddhist faith would not be a negative in Northern Virginia, it could be problematic in the 20th District, which is a more homogenous, Christian district, Travis said.Other faiths, meanwhile, are penetrating the Beltway. Two practicing Buddhists, Hank Johnson of Georgia and Mazie Hirono of Hawaii, became the first to be elected to the U.S. Congress in 2006.
That year, Rep. Keith Ellison, D-Minn., was the first Muslim elected to Congress, sparking an outcry from former Rep. Virgil Goode, R-Rocky Mount, among others, over his being sworn in using the Koran.
Curren said he would use the Bible for his swearing-in.
Despite Pyles' contention, Democratic leaders in the 20th District said Curren's faith won't be a stumbling block for him in November.
"Voters of this district are able to judge a candidate on the basis of what they will bring to office," Staunton Democratic Committee Chairman Bob Dickerman said.
Staunton City Councilman Bruce Elder, who fell short in a 2005 bid to unseat Saxman, predicted that Curren's faith will be only "a little sidebar on the whole campaign," he said.
James Madison University political scientist Bob Roberts agreed.
"I doubt this will be an issue. There are other overwhelming issues that will take precedent," Roberts said.
But he did sound some caution: There is some question as to whether the revelation could persuade undecided moderates or independents not to vote for Curren, he said. Still, he added, "I doubt it is a motivating factor not to vote for him."
Dickerman pointed to 6th District U.S. Rep. Bob Goodlatte as evidence of voters' ability to sift religion from politics. Goodlatte is a Christian Scientist, making him part of a religious minority in a section of the state richly populated by Baptists and other mainstream Christian denominations.
Dickerman is old enough to remember when religion was a major campaign issue in the 1960 presidential race won by Democrat John F. Kennedy, a Roman Catholic, like Saxman.
Toppling Saxman, a popular four-term incumbent considered by many to be among the GOP's rising stars, figured to be a tall task. Republicans have yet to name a candidate to succeed him.
The keys to winning, Dickerman said, will be platform, character and ideas.
Curren, who plans a formal statement today, said the real issues are Virginia's 300,000 unemployed, real estate foreclosures and increased school class sizes in grades k-12.In a time of ethics and morality problems in government, religion can help guide the right decisions, Curren said.
"All great religions share certain values," he said.
Pyles wonders whether voters will agree. That, he said, is why he raised the issue with Curren.
"People think I keep trying to stir things up," Pyles said. "I gave him the best counsel I could."
Elder said Pyles is selling the voters short: "I have a lot of faith in the people of the 20th District."
The 20th District is made up of Staunton, Highland County and parts of Augusta and Rockingham counties.