Tibetan lama offers Buddhism classes
By HEATHER ROTH, Hometown Annapolis, Aug 20, 2009
Annapolis, MD (USA) -- Phurbu Tashi sat cross-legged in his chair, bare feet tucked under his long red skirt that, together with a yellow tunic-style shirt, makes up his traditional Tibetan lama attire.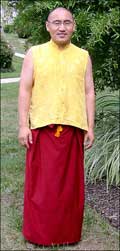 << Heather Roth — The Capital
Phurbu Tashi, a recognized reincarnated Tibetan lama, is looking for a home for his 8-month-old Gampopa Center. Tashi currently teaches Buddhism and meditation out of a student's home in Epping Forest.
He's lived in Annapolis since just after Christmas, and his English is still heavily accented.
"I came to the United States for Dharma teaching," he said simply. "My plan was to teach Dharma, but I didn't know when or who or how."
Tashi was recognized as a reincarnated lama, or a teacher of Tibetan Buddhism, when he was just 13 in his hometown village of Liuba in Tibet.
Now 36, he founded the Gampopa Center eight months ago, a teaching and meditation center with nearly 200 students that he runs out of the home of one of his students.
But Tashi is hoping to find a physical home for his center.
"A place is the most important, to have a special place for teaching," he said. "Visitors are much more comfortable."
His classes focus on the Dharma - the teachings of Buddhism - as well as meditation and the Tibetan language.
"Dharma teachings (are) a skillful means to get rid of mental afflictions," he said. "Kind of a medicine to overcome mental affliction."
When Tashi first arrived in the city, he found a job through an employment agency as a cashier.
He met Karen Lorenz of Annapolis, one of his first students, through a local storekeeper.
"He and I share a friend," Lorenz said. "(The friend) looked at me and said, 'Oh, you're a Buddhist, I know a lama.' "
Lorenz had been practicing Buddhism with the Mindfulness Group at the Unitarian church in Annapolis, and she and a friend decided to look for Tashi.
"(They) came to the store and said, 'We're looking for the lama,' " Tashi said.
Tashi moved into Lorenz's home, gave up his cashier's job and went back to teaching Dharma full time.
He offers classes out of the Epping Forest home of another of his students, but he and Lorenz are hoping to rent a few rooms from a church, business or organization to hold classes and office space.
"In a perfect world, what we would love to have is a place where (a) lama could live and teach," Lorenz said.
"We simply don't have the financial backing to support that."
Tashi said he was only 13 and had no connection to the Gangkar Monastery in Tibet when the local lamas came to his home and told his parents that he was a reincarnated lama.
Tashi studied at the Gangkar Monastery for several years and then at the Palpong Monastery College in Derge Kham, Tibet. He was 17 when he walked 15 days across the Himalaya mountains to India, where he studied at Nalanda University and at a retreat in Darjeeling, India.
After completing his studies, he served as a teacher at the retreat and later at retreats in Indonesia, France and Switzerland.
Because he slipped out of Tibet without a passport, Tashi had to get one in Nepal and can only return to Tibet on a visa.
"All my family is in Tibet," he said. "There was the expectation that I would teach there."
But getting a visa is difficult because of "the political situation," he said, so he decided to come to the United States instead.
"The one reason is I like the country, the other reason is I speak English," he said.
"This is a place where many people may be interested (in Buddhism) but not established."
Tashi also feels that he has something to offer that the people in Annapolis need.
"Especially at this time and this part of the country, people don't have a problem with material (needs), but they have a greater problem with emotional needs," he explained.
"I think the Dharma teachings would help."
For more information about the Gampopa Center, visit www.gampopacenter.com.