Buddhists gather with the goal of being in the moment
By Susan Canfora, Delmarva Now, October 24, 2009
Meditation, spirituality the focus of weekly meetings
SALISBURY, DE (USA) -- In a relaxed atmosphere, dedicated Buddhists gather for meditation and discussion by candlelight.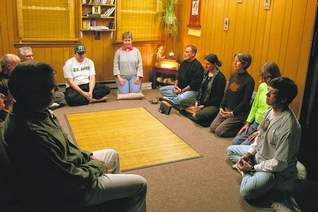 In their stocking feet, they form a circle as they sit or kneel on pillows on the floor or sit on upholstered chairs on Monday nights at Unitarian Universalist Fellowship of Salisbury and begin with about 15 minutes of meditation.
The little room is illuminated by candles and a string of multiple-colored lights that run around the walls.
Most close their eyes during meditation. All look peaceful, deeply involved.
"There is an awareness. You learn to sit in that awareness. We learn it's about being. There is a distinction between being and thinking. It's about training your mind, opening ourselves to a greater awareness," explained Brian Foret, a Salisbury resident who has been attending the weekly gatherings since they began more than three years ago.
Everybody is welcome to the sessions, which begin at 7 p.m., from practicing Buddhists to those who want to learn about Buddhism, which members prefer to call a philosophy or spirituality rather than a religion. Spirituality, one member said, allows one to think for himself, "but religion does the thinking for you."
"The Buddha said, 'Here's what works for me, but if it doesn't work for you, I wish you well.' There is no punishment," said Mike Goebel, who has also attended for more than three years.
Goebel described Buddhism as "focused awareness to expand consciousness."
"I was unsatisfied with the answers I got from organized religion," he said. "I didn't get the answers I wanted. I was raised Catholic and I felt like I was watching. I never felt like I was part of it. As a Buddhist, I'm not as angry as I used to be. I'm not in conflict. I don't have a fear of death. I used to have a terrible fear of death, but now there is no fear at all."
Buddhists sit and meditate but don't waste time on worry. Thoughts arise and are acknowledged, but allowed to pass as though the person meditating is a flowing river, moving peacefully past the thoughts.
"It's not that you're not involved in the future. You plan, but you live in the moment," Foret said.
The Buddha, Goebel explained, said all people are enlightened, it is the innate nature, but not everybody is aware of it.
It's an open group, an eclectic one, Foret said. Members don't have to practice a particular type of Buddhism or Buddhism at all. Everybody of all faiths is welcome.
"We are a community (or "sangha") of individuals in Salisbury, Maryland, from all walks of life that meet weekly for meditation, mutual support and Buddhist studies. We aim to create a warm and supportive environment where the nondogmatic pursuit of truth and meaning can lead to greater wisdom and compassion in all who seek it," the group's Web site, Salisburyzen.com, states.
"Our community recognizes the value of both study and practice. In the West, most people are not familiar with even the most basic principles of Buddhism or other eastern traditions. Therefore, we regularly include recorded dharma talks, relevant DVDs and discussions of popular Buddhist books in our weekly Monday meetings. Core principles we embrace include the Four Noble Truths, the Eight-Fold Path and the 14 Mindfulness Trainings.
"Yet although study has its place, our tradition emphasizes practice above all else. Our practice includes seated meditation, walking meditation and mindfulness. As these practices yield such positive benefits on one's mental and physical health, we encourage everyone to carry them into their everyday life," the Web site states.
At the last meeting Monday, the 16 men and women in attendance listened to a podcast featuring speaker Gil Fronsdal.
In a clear, calm voice, he talked about how some people become angry or discouraged or give up when things don't go their way. The alternative, he said, is to say, "Wow. A challenge. I get to figure this out."
A person practicing mindfulness will step back and watch, relax, not struggle or grab.
"In that way, things unfold much better," he said.
"Be aware of the breath within the breath. Be aware of the body within the body. Feel your body from the inside. It can be beautiful. It can be luscious," he said.
On Monday, members will join for a walking meditation.
With their eyes open, they walk around the inside of the Unitarian church or another suitable area indoors or outdoors, concentrating on each step and on breathing. Some walk heel to toe; others prefer toe to heel.
"That's the most relaxing thing. You feel your foot on the ground and walk and breathe," Goebel said.
As the Oct. 19 meeting ended, there was another session of meditation, about 20 minutes. It ended with some bowing low to the ground then sitting up and putting their palms together and rotating them up, fingertips under chins.
There was no rush. Eventually conversation began.
"Every time you meditate, you go more deeply into spirituality," one woman observed.
Another nodded.
"And the thing about being in the moment," she said, "is that it's way cool."