Tibetan Nun Is A Fake, U.S. Says
By Jerry Markon, Washington Post Staff Writer, March 24, 2005
Woman Accused Of Passport Fraud
Washington, D.C., USA -- Sonam Chodon won the sympathy of human rights advocates and even a U.S. congressman because she said she was a Buddhist nun fleeing persecution in her native China.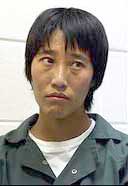 << Sonam Chodon gained sympathy by saying she was a Buddhist nun fleeing persecution in China. (Dudley M. Brooks -- The Washington Post)
Now the government says she was never a nun at all.
Chodon, 31, was indicted last week on charges of passport fraud, document fraud and perjury. She is expected to turn herself in to federal authorities before her arraignment in U.S. District Court in Alexandria today.
Federal officials said Chodon, who grew up in a Tibetan village near the foot of Mount Everest, concocted the nun tale as part of her highly publicized bid to gain asylum in the United States. She described going to a nunnery in Nepal, where she shaved her head, burned incense and arose at 5 a.m. to recite prayers. "I'm just a simple Buddhist nun,'' she told an immigration judge in Arlington in 2003.
In reality, the government says, Chodon is part of a passport fraud ring still under investigation. Federal investigators do not know why she allegedly faked being a nun, but they say the case highlights the potential danger posed by those who may exploit immigration laws, as the Sept. 11, 2001, hijackers and other terrorists have done.
"There is a national security issue here,'' said Michael J. Garcia, assistant homeland security secretary for immigration and customs enforcement. "Maybe not in this particular case, but we have a general vulnerability here.''
Chodon's attorney, Richard Beizer, said she would plead not guilty at today's arraignment. Chodon, who was jailed in Virginia for nearly six months starting in 2003, could not be located. Federal officials said she is believed to have been living in New York.
Human rights workers and Tibetan activists fear that the charges may cause the United States to overlook the suffering of thousands of asylum seekers fleeing religious persecution in China and political oppression around the world. Chodon -- who was featured in a front-page article last year in The Washington Post -- said her family members were tortured for their religious beliefs.
"It would be a great shame if this case undermines the support the American people give to the Tibetan people as a whole,'' said Kate Saunders, a spokesman for the D.C.-based International Campaign for Tibet. That organization's president told The Post last year that he had asked the group's members to urge Congress to intervene on Chodon's behalf and stop the government from fighting her request for asylum.
Rep. Rick Boucher (D-Va.) praised the decision last year to release Chodon from a central Virginia jail, where she had been held since she arrived at Dulles International Airport from Nepal in 2003. "I'm completely convinced she's legitimate,'' Boucher said at the time.
Boucher said yesterday that he based his assessment on information provided by Chodon's attorney at the time and that he had been concerned that a Buddhist nun would be jailed. He said he never called anyone on Chodon's behalf, and he declined to comment on the indictment.
The charges are the latest twist in the saga of Chodon's journey to the United States, which she said began with a desperate eight-day walk to Nepal across snow-capped mountains. In an interview last year at the Riverside Regional Jail, Chodon said she was fleeing Chinese authorities, who have long been accused of persecuting Tibetans for their religious and political beliefs.
Chodon, who goes only by the name Sonam, told a reporter last year that her father had been jailed in Tibet and tortured with electric shock. She described hiding from police patrols as she made her way across the Himalayas to Nepal.
The indictment does not address Chodon's tale of torture. But it says that once in Nepal, Chodon paid money to obtain a false Nepalese passport and then used it for her trip to the United States in 2003. The same passport had been used at least five other times to enter the United States, the indictment said.
The indictment, filed March 15, charges Chodon with conspiracy, false use of a passport, misuse of a passport, immigration document fraud and perjury. Also charged was Kelsang Gurung, who federal officials said is another member of the ring believed to be in Nepal. He has not been arrested.
When Chodon arrived at Dulles, federal officials said, immigration inspectors flagged her passport as having been used before by someone else. She was jailed for almost six months.
Nevertheless, Chodon's request for asylum in the United States was granted in November 2003 by Paul Wickham Schmidt, a federal immigration judge in Arlington.
Garcia said having a fraudulent document does not necessarily bar someone from winning asylum. "Someone who needs to get out of a country with an oppressive regime grabs a document and flees. That's a sympathetic case,'' he said. "On the other hand, it raises concerns.''
At a hearing before Schmidt, Chodon said she was first admitted to a Nepalese nunnery in March 2002. Federal agents traveled to Nepal, went to the nunnery and showed Chodon's picture, said a federal official who spoke on condition of anonymity because the information is not in the indictment.
The nunnery had never heard of Chodon, the official said.