Tibetan Pleads Not Guilty to Fraud, Perjury
By Jerry Markon, Washington Post Staff Writer, March 25, 2005
Woman Seeking Asylum Accused of Lying About Being a Nun
Washington D.C., USA -- A Tibetan woman accused of falsely declaring herself a Buddhist nun to gain asylum in the United States to flee persecution pleaded not guilty yesterday and is scheduled to go on trial in May.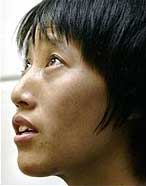 << Sonam Chodon gained sympathy by saying she was a Buddhist nun fleeing persecution in China.
In a court hearing attended by few of the supporters who once championed her cause, Sonam Chodon did not speak as her lawyers entered her plea in U.S. District Court in Alexandria. Wearing a long purple dress and a red winter jacket with black fur, she looked dazed as she approached the podium. But she later smiled and thanked her lawyers.
U.S. District Judge Gerald Bruce Lee scheduled Chodon's trial for May 23 and released her on a $75,000 personal recognizance bond. Chodon, who lives in New York, declined to comment, as did her lawyers.
A federal grand jury last week indicted Chodon, 31, on charges of passport fraud, document fraud and perjury. Investigators say she used a fake passport to enter the United States in 2003 and made up the nun tale as part of her bid to gain refuge from what she said was persecution by China in her homeland.
Chodon's accounts of torture and other abuses won support from human rights groups and Tibetan activists, as well as the sympathy of a member of Congress. Activists -- along with Chodon -- mounted a public campaign for her release after the government detained her in a central Virginia jail upon her arrival at Dulles International Airport from Tibet.
Even with the charges, human rights groups said Chodon's case demonstrates what they called an overly aggressive approach in imprisoning foreign asylum seekers, many fleeing persecution, since the Sept. 11, 2001, terrorist attacks.
"This is a chilling message to anyone who complains about their treatment in immigration detention," Eleanor Acer, director of the asylum program at New York-based Human Rights First, said Wednesday. The group, formerly called the Lawyers Committee for Human Rights, issued a report last year that accused the government of jailing thousands of foreigners seeking asylum and appealing court rulings in their favor.
Federal officials said they support legitimate asylum seekers and contend that cases such as Chodon's slow the system for everyone else.
"We are a welcoming nation, obviously," Michael J. Garcia, assistant homeland security secretary for immigration and customs enforcement, said Wednesday. "We have a very broad and generous asylum policy for people who legitimately meet those standards."
Garcia acknowledged that immigration agents have been tougher in enforcing the law since Sept. 11 but said that process started in reaction to the first World Trade Center bombing in 1993. Ramzi Yousef, who later was convicted in that attack, entered the United States as an asylum seeker in 1992.
"If I could have rolled back the clock and we could have prosecuted Ramzi Yousef for fraud, he'd be a failed asylum seeker rather than the mastermind of the World Trade Center bombing," Garcia said.
No terrorism connection has been found in Chodon's case, and federal officials say they do not know why she allegedly lied about being a nun.
In an interview last year with The Washington Post, Chodon said that she grew up in a Tibetan village near Mount Everest and that her father was jailed and tortured by Chinese authorities.
Fleeing across snow-capped mountains to Nepal, Chodon was admitted to a Nepalese nunnery in 2002, she later told immigration officials. "I'm just a simple Buddhist nun," she told an immigration judge in Arlington in 2003.
But when federal agents traveled to Nepal and showed Chodon's picture at the nunnery, federal officials have said, people at the nunnery said they had never heard of her.
The indictment said Chodon obtained a fake Nepalese passport from members of a passport fraud ring and used it for her trip to the United States. Also charged was Kelsang Gurung, who federal officials said is a member of the ring believed to be in Nepal. Prosecutors described her yesterday as a fugitive.