South Hill Buddhist monastery work continues
By Krisy Gashler, The Ithaca Journal, August 26, 2010
Donations dwindle due to economic downturn
Ithaca, NY (USA) -- The economic downturn has slowed but not stopped progress on the new Tibetan Buddhist Namgyal Monastery on South Hill.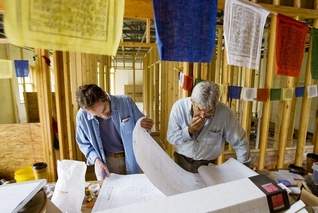 << Architect Lane Chambliss, left, and Scott Smith of general contractor Latipak Builders of Ithaca check the plans Thursday for Du Khor Choe Ling, the new building for the Namgyal Monastery Institute of Buddhist Studies that is under construction on South Hill in the Town of Ithaca. Construction is proceeding slowly as funds are available. (SIMON WHEELER / Staff Photo)
Namgyal Monastery Institute of Buddhist Studies was established in Ithaca in 1992 as a branch of the Dalai Lama's main monastery in Dharamsala, India. Ithaca hosts the Dalai Lama's only personal monastery in North America.
The monastery is currently housed at 412 North Aurora St., but in 2004, with support from a private donor, the organization bought a 28-acre lot off Danby Road on South Hill and began work on an expanded facility, according to Namgyal Monastery's website and Sue Crowley, president of the monastery's Board of Directors.
"This facility is not only an expansion for the programs we offer already that are related to Buddhism and Tibetan Buddhism, but His Holiness has specifically charged us with working for it to be a space for interfaith dialogue in the world today, which badly needs it, and also a space for dialogue not only among people of different faiths, but also between science and religion. Those are two issues that are high on our agenda for this new facility and I think they're both very important," Crowley said.
Complete project plans call for a 13,000-square-foot complex with five buildings around a central courtyard. The buildings will include housing for monks, students, and a private residence for the Dalai Lama, as well as a 120-seat Shrine Room, a dining room, library, classrooms, offices and conference rooms.
The Dalai Lama himself has named the new monastery "Dü Khor Choe Ling, The Land of Kalachakra Study and Practice."
Kalachakra means "Wheel of Time" and is a teaching relating to the external world, the human body, and Buddhist initiations and paths, according to the Dalai Lama's web site.
Project Architect Lane Chambliss said the original hope was to have the project on South Hill complete by next year, but "with the economy (down), donations have been coming in, but smaller and slower than we had hoped."
Two of the five buildings in the main complex -- the Shrine hall and the commons building -- have been constructed and enclosed, but none of the interior work has been completed, he said.
What we're continuing with right now is all the mechanical and electrical work which needs to be buried in the interior construction before we can start thinking about interior finishes," Chambliss said. "We're just going as far as we can with available funds."
Roughly $140,000 is available to continue work, but the total cost to complete both buildings will be more than $600,000, he said.
An early estimate on the cost for the full project was $2.57 million, but Chambliss said the estimate has not been updated recently.
"We haven't revisited the estimate because it seems like those are far enough out, and in these troubled times, it's hard to project that far out what things will actually cost three or four years from now," he said.
Crowley said that with the downturn in the economy, "donations are just drastically down."
"We are experiencing a real shortfall in maintaining the services we have now, housing, insurance and things for the monks," she said. "And of course we've been putting all our energy now for quite some time into fundraising for the new monastery. To some extent that's taken resources from the current facility so we're strapped at this point to continue services where we are while also trying to build the facility and expand services and expand our financial base."
The monastery remains hopeful, however, about being able to eventually complete the full project, Crowley said. Among the many motivators is that the Dalai Lama has promised to return to Ithaca and perform a Kalachakra initiation when the facility is finished, she said.
"This area of New York is really rife with people who are interested in many different forms of Buddhism and even different forms of meditation that may be for health or psychological reasons and we think that a larger facility would just create a lot more opportunities for study and practice and to build community," she said.
For more information and a virtual tour of the new monastery, go to: www.namgyal.org.