Buddhist monk passes through Georgetown on 740-mile walk
By Anne Kasper, Georgetown Record, Sep 3, 2010
Georgetown, MA (USA) -- Karen Terzano had already been walking for nearly a month when she reached Georgetown on Thursday, Aug. 26, and she still had hundreds of miles to go before she reached her final destination.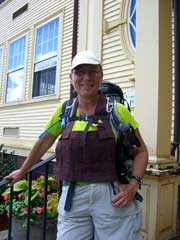 << Wicked Local Photo by Anne Kasper
On her walk from Maine to New York City, 59-year-old Karen Terzano, is aiming to walk about 10 miles per day. While she walks, Terzano wears her rakusu, a cloth garment worn around neck, which identifies her as a Zen Buddhist.
The 59-year-old Buddhist monk is on her way to a Zen retreat that will take place in Garrison, N.Y. She began her journey on Aug. 1 by walking out the front door of her home in Ellsworth, Maine, and she will complete her trip in mid-October at a Zen center on Manhattan's Upper West Side, where she will rest for a few days before going to the retreat.
"I walked out my front door, turned left and went," Terzano said.
For the trip, which Terzano estimates to be about 740 miles, she will be following the northern segment of the East Coast Greenway, a developing trail system that runs from the northern border of Maine to Key West, Fla. It's a route that took Terzano straight through Georgetown on her way along the North Shore to Boston.
Long-distance hiker
According to Terzano, only about 25 percent of the greenway is completed trails. The rest is still being developed, so there are interim routes that follow roads instead. For example, in Georgetown, the Borders to Boston Trail that the Recreational Path Committee has been working on for years, will eventually be a part of the greenway.
Because most of it is on roads now, the greenway is mainly used by bikers instead of walkers, Terzano explained.
Terzano is an experienced long-distance hiker, though. She hiked the Appalachian Trail from Georgia to Maine two years ago, and earlier this year, she walked El Camino de Santiago, a nearly 500-mile pilgrimage through France and Spain.
During her trip, Terzano will be informally collecting information that will be helpful for future travelers, such as where to find fresh water and the location of campgrounds and stores to buy food and supplies, and sharing it with the East Coast Greenway Alliance.
Sleeping under the stars
Because of the lack of infrastructure, Terzano had to get creative about finding places to stay. Before she left, she put together a list of churches and Buddhist centers she would pass, and she carries a one-person tent in her 29-pound pack.
Terzano explained that on a typical day, she'll start looking for a place to stay in the town she plans to reach. She'll go to the municipal office or the police station or a nearby church to ask about potential places to stay or where it would be okay to pitch her tent.
"This has been real practice in letting go of my fear and my pride," she said.
Her goal is to cover about 10 miles a day, but Terzano said that she's been averaging more like 12 or 14 miles because so much of her route is on roads with lots of traffic.
"It's very hard to walk slow on busy highways," she said, explaining that she's ahead of schedule at the moment.
Kindness of strangers
Last week, Terzano stopped at the state police barracks in Newbury after passing through Salisbury and Newburyport. One of the officers there told her about Adelynrood, a religious retreat in Byfield where she might be able to stay, and found the phone number for her.
Terzano called Adelynrood, and they offered to give her a free night at the center and even came to pick her up at the police barracks, which were three miles away. Around the time she got to Adelynrood, rain set in and didn't let up the next day. Terzano said that the women running the retreat center offered her another free night because they were worried about her walking in the bad weather.
"That's the kind of thing that's happened over and over," Terzano said.
She said she knows that people are inherently kind and generous, but the display of it that she has seen so far on her trip has been overwhelming.
Local highlights
Terzano got on her way again on Thursday, Aug. 26, starting out at the state police barracks on Scotland Road and following Main Street through Byfield. She made her way into Georgetown on North Street around 11 a.m.
When she passed the Erie Four Fire Station, the historic handtub on display caught her eye. Terzano said she stopped and knocked on the door to see if she could take a picture. That's when a Georgetown police officer stopped to see if she needed help. When she told him why she was there, he explained that it was a call station so no one was there, and then they talked for a while about her walk.
After that, Terzano ate lunch at Theo's Restaurant, where she did an interview for this story. From there, she walked down Central Street on her way out of town, with a quick stop at Town Hall to see the Revolutionary War cannon "Old Nancy."
The greenway then led Terzano through Boxford and Topsfield, where she camped in a park for the night. Over the next few days, Terzano's route took her through Beverly and Salem along Route 97 and Route 1A, and then into Lynn and Malden. She said that from there she would pick up the Charles River Bike Trail, which she will follow through most of Boston.
Quiet contemplation
Terzano, who is a naturalist, a psychologist and has been practicing Zen Buddhism since the late 1980s, explained that there were many of different things that all came together to inspire her to take this walk, but one in particular was having one of her friends die of a heart attack while they were walking El Camino de Santiago earlier this year.
"It hit me deeply," Terzano said. "I needed to find a way to give back to the world."
She said she undertook this walk with that in mind.
"Friends have encouraged me to start talking to people about walking," Terzano said, explaining that she's realized this walk could be an opportunity to do just that.
"Walking, especially long-distance walking, is a spiritual practice," Terzano said. "It's a great way to get clarity."
According to Terzano, when she walks she feels a connection to her surroundings and to people that she can't get when she just drives somewhere in her car. She said the struggle is to find a way to bring that connection and that clarity into everyday life.
End of the road
Terzano said she is still deciding what she'll do after getting to New York and attending the four-day Zen retreat in Garrison.
"If I go home, I will take the bus," she said.
She might keep walking, though. Terzano said that she is toying with the idea of following the southern portion of the greenway down to Florida, but she thinks the winter weather might get in the way.
"I don't think I have enough time," Terzano said. Instead, she said that she might walk short northern portion of the greenway, going from her home in Ellsworth to Calais, Maine, located on the Canadian border.
You can follow the rest of Terzano's walk on her blog at www.weekendwalk.com/walking-now/maine-to-nyc-karen-terzano. To find out more about the East Coast Greenway, go to www.greenway.org.