Monks in their midst
By Christine Legere, Boston Globe, October 31, 2010
In a stretch of suburban Raynham, a community of ascetics is planning what may be the largest Thai Buddhist temple in the hemisphere
Article source: The Boston Globe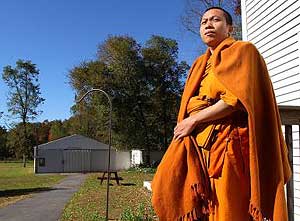 RAYNHAM, MA (USA) -- A quiet neighborhood along Raynham's South Street East is slated to have an unlikely addition soon to its mix of modest homes and small businesses: an ornate Thai Buddhist wat, or temple, the likes of which won't be found anywhere outside of Thailand, according to its principal designing architect.
The temple, to be called Wat Nawamintararachutis, or NMR Center, will celebrate the life of Thailand's current monarch, who was born in a Cambridge hospital in 1927. Because of the Boston area's connection to the king, the project has generated great interest both in the Buddhist community and within the government of Thailand. The Thai government has, in fact, agreed to bear the $16 million cost of construction, set to begin next spring, according to Eang Tan, a member of the temple's board of directors.
The temple's design is the fruit of a team of Thai and American architects that worked for five years to create a meditation center that would contain distinctly Thai Buddhist elements as well as some New England style. For example, while the temple will feature the stacked gables common to Thai Buddhist temples, the gables will be shaped more like those found in the region.
"We needed to consider the weather conditions as well as the culture,'' said the project's lead designing architect, Been Wang, a principal of Architectural Resources Cambridge. "Thai gables have a curved roof shape and an overhang. These are more like New England gables.''
The result will be a 109,000-square-foot complex with a four-story museum and temple building, sleeping quarters, and a large conference center, all clustered around a spacious courtyard filled with lotus-shaped fountains and fountains with lotuses. Wang said it will be the largest such meditation center outside Thailand.
Richard Cook, a temple member and an adviser for the project as it obtains the necessary permits, said the center will be notable for its size.
"There are recent temples built in New York City and Washington, D.C.,'' Cook said. "This will be basically twice their size.''
The only other Thai Buddhist temple in Massachusetts is the Boston Buddha Vararam Temple in Bedford, a small center situated on about 2 acres. There are about 4,000 Thais in the state, according to Laura Medrano, a US Census Bureau official.
The Raynham temple will boast such typical Thai elements as a 180-foot spire, cast in bronze and covered in golf leaf. The spire will be made in Thailand and shipped here.
Thai Buddhists are not new to Raynham's South Street East neighborhood. A thriving community of devotees, from all over Eastern Massachusetts and Rhode Island, has gathered on weekends for the past four years at a modest farmhouse on the street. They chant and meditate in a small temple room and are counseled by a half-dozen saffron-clad monks. Meanwhile, younger members are schooled in Thai culture and the 2,500-year-old Theravada Buddhist tradition.
That tradition is one of two principal branches of Buddhism. Theravada, which means "way of the elders,'' is most prominent today in Southeast Asia and Sri Lanka, according to resources at the Pluralism Project at Harvard University. Its beliefs are drawn from the earliest Pali writings, which are considered the most accurate source of teachings of the historical Buddha, who lived in India 2,500 years ago. The ideal spiritual model of Theravada Buddhism is attaining nirvana, where all obstacles and desires are extinguished.
Mahayana Buddhism, the other principal branch, was the first to be practiced in the United States, brought by Chinese and Japanese immigrants in the 19th century. The traditions of this branch of Buddhism are more flexible, drawn from a number of later teachings not related to the historic Buddha. In the Mahayana tradition, the ideal is a fully enlightened being who is engaged in helping others to become free of their suffering.
About 50 devotees gather at the Raynham farmhouse on a typical weekend, but during major celebrations that number can soar to 500.
The dream of this tightly knit religious community has been to one day construct an expansive Thai Buddhist meditation center in the Boston area.
The members had decided the complex would celebrate King Rama IX, Bhumibol Adulyadej, of Thailand, who was born in Mount Auburn Hospital in Cambridge and has been king since 1946.
"When we were looking for land, we looked in Boston, but we needed more space,'' said Natthapat Saisena, a member of the Thai architect team. In 2006, a Thai Buddhist abbot who had helped develop a number of other temples in the United States bought the 50-acre Raynham property.
Abbot Phra Promwachirayan then traveled the world studying the elements of various Thai Buddhist temples.
"He then told me his vision,'' said Wang. "This will be East meets West.''
The complex will sit about 150 feet from the street, with the lot's natural downward slope making the size of the buildings less obtrusive. Neighboring properties will be at least 100 feet away. About 6 of the 50 acres will be developed.
With the exception of the local building permit, which is pending, all approvals for the project are in hand, temple officials said.
One recent Sunday, 80 or so members of the temple community turned out at the farmhouse to get a look at a three-dimensional model of the NMR Center. Architects were on hand to talk about the project, scheduled for completion in 2012.
Newton resident Sue Sihatrai, a member of the Thai Buddhist community since 2002, said she looks forward to the groundbreaking.
"I was here when they first started wanting to build a Buddhist center,'' she said. "I think it will be one of the most beautiful temples in the world. It will be perfect.''
The Thai Buddhist tradition includes visiting the temple and bringing offerings to monks, who have few possessions of their own. In Thailand, the monks also go into the village for offerings each day, something that's not possible in Raynham. At the recent gathering, community members organized baskets of gifts for them, like fruit and vegetables, packets of sticky rice and bananas neatly wrapped in banana leaves, and dry goods such as paper towels, toothpaste, and soap.
It's likely to be a much busier scene in the future.
Once the new center is complete, 15 to 20 monks will reside on the Raynham property. Its dormitory will have room for 100, more than large enough to accommodate visiting monks and those staying for weekend meditation and cultural instruction.
As it is, the Raynham farmhouse already attracts people who come because they are interested in meditation, whether they are Buddhist or not.
"I came from secular meditation that evolved out of Thai Buddhist meditation,'' said Ken Pitts, who moved to North Attleborough a year ago.
"I and several other people who come here are affiliated with a group in Arlington. Some are recovering substance abusers, and the monks are trained in counseling. Others are Americans interested in meditation.''
Pitts, a regular visitor, said he tutors the monks in English and provides transportation when they run errands; one of them teaches a class at a nearby community college. He said he expects interest in the temple from those outside the Thai community to grow when the new center is completed.
Most Raynham residents have welcomed the Thai Buddhists to town.
"I've gone over and walked the property and was invited to stay for lunch,'' said Eric Hebert, who lives nearby with his wife, Jennifer.
"From the pictures and models they have, it looks like it's going to be a nice place.''