Buddhists say they're fed up with Amsterdam
by Randy Simons, WRGB CBS 6 Albany, January 21, 2011
AMSTERDAM, NY (USA) -- It was just months ago that the World Peace and Health Organization promised to invest one billion dollars into the city of Amsterdam because it was their destiny.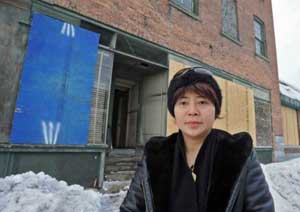 << Jennie Wong stands outside of a warehouse where vandalism occurred to property owned by Buddhist community in Amsterdam, NY on January 20, 2011. (Lori Van Buren / Times Union)
Thursday, they announced that they are pulling out their investment and looking elsewhere after another one of their properties was vandalized.
Thieves broke into one of their buildings on Leonard St. and ripped out the electrical wires and stole all available copper.
Sgt. Owen Fuhs with the Amsterdam police department says it's a common crime they have been dealing with.
"Six weeks ago our patrol officers caught someone breaking into the Chalmers building stealing copper," says Fuhs. "That's what we believe happened here but aren't ruling anything out."
The Buddhist group led by the Holy Ziguang Shang Shi says it's much more.
"This incident is another intentional hate crime that they want to do with our building," says Shang Shi through a translator.
The WPHO suffered another crime when criminals broke into one of their temples back in September and stole statutes and vandalized the place.
"Until now we have only had one statue back out of nine," says Shang Shi.
Because of all the crimes, Shang Shi held a press conference Thursday to announce that they are pulling out of Amsterdam and taking their one billion dollars with them.
"Already it has cost our investors to back off because they are afraid of the enviroment here," says Shang Shi.
The WPHO has already bought 48 properties throughout the city and says they plan to give them back for free. If they can't do that then Shang Shi announced they will sell them for one dollar.
The group was in the process of purchasing the old Clara Bacon school but says that will not happen now.
Amsterdam Mayor Ann Thane says she was suprised and dismayed by the news.
She says she will meet with the organization on Friday at 1:30pm to discuss their concerns with the hopes they will reconsider investing their money elsewhere.