Buddhists welcome Year of the Dragon
By Hallie Jordan, Houston Chronicle, January 22, 2012
Houston, Texas (USA) -- About 100 members of Houston's Chung Mei Buddhist Temple kneeled and chanted in Mandarin for almost two hours as they welcomed the Lunar New Year during a traditional prayer service Sunday.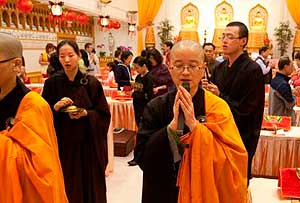 << Jue Au, a Buddhist nun, center leads Chung-Mei Buddhist Temple's attendees walk about as a part of their chanting service for Chinese New Year Eve Prayer & Peace Lantern Festival, Sunday, Jan. 22, 2012, in Stafford. The Temple has scheduled special Dharma functions to be held on January 29, 2012 to pray for world peace, blessings, and good fortune in the coming year. The Homage to Thousand Buddhas Ceremony will be on January 29th and the Light Offering Dharma Service will be February 5th. ( Nick de la Torre / Houston Chronicle ) Photo: Nick De La Torre / © 2012 Houston Chronicle
The sanctuary was decorated on the eve of the holiday with brightly colored yellow and red candles, representing both the living and deceased. Incense burned in the entry way, as participants received prayer books and brought offerings, such as soap and tea.
A holiday with a celebrations on the scale of Christmas or Thanksgiving, the Lunar New Year is a time for families to come together.
"Chinese New Year's Eve is the most important day of the year. It's a family reunion and a blessing so you go to Temple," said Peishu Huang, 36, a regular attendee of the Chung Mei Temple. "We have the opportunity to come here. All follow the same tradition."
The new year, which begins Monday, is the Year of the Dragon according to the 12-year cycle Chinese zodiac calendar. Some consider the Year of the Dragon particularly special and lucky.
"We like to think the dragon will bring luck to the people," Huang said. "We look for that, but that doesn't really mean the best, though we take it as a lucky symbol."
Typical festivities often include the classical dragon dance, as well as parades and fireworks. New Year's Eve dinners include foods that have symbolic meanings, such as sticky rice cakes, which are eaten to bring luck in the new year.
"The idea is to let go of this year and welcome the new year and move forward," said Charlene Chuang, 54, who lives in the Memorial area.
Though celebrations in Houston are much smaller than those in China, members of the temple said they felt the New Year's Eve service was a way to come together with both their families and the larger community.
"We are in America so we don't really celebrate Chinese New Year," Sharon Chen, 24, said. "I think the main place is in the temple."
Built in 2001 and a follower of the Hsing Yun order of Buddhism, the Chung Mei Temple is open to newcomers and visitors. Jo Ankley, for instance, joined about six months ago, feeling her personal beliefs fit with Buddhist ideals.
"We cultivate things in our life and are responsible for changing our behavior and speech," said Ankley, a 53-year-old Missouri City resident. "It's 100 percent about responsibility and humanness. I like to believe people are good."