Buddhist Monastery to Build New Temple
By Jeremy Bowman, Loudoun Connection, July 28, 2005
Loudoun County, Virginia (USA) -- If everything goes as planned, Wat Yarnna Rangsee should have a new temple by this time next year. The Buddhist monastery at 22147 Cedar Green Road needs to gain county approval and raise $1 million, of which they have raised $250,000, to build the new temple, or "wat" in Thai.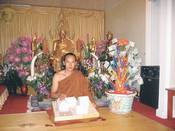 << Photos by Jeremy Bowman/The Connection
Sunya Nakyai, a monk at Wat Yarnna Rangsee, sits in his monastery's meditation room holding up a preliminary model of the new temple. Next to him is a display of some of the donations the wat has received for the new temple.
"It depends on the donations," said Tee Pokin, the temple's secretary and representative, about the timeliness of the new wat. "Right now, we are just trying to organize the money." Most of the donations have come from members of the temple who number in the hundreds, and the monastery's abbot has returned to Thailand to raise money for the project.
THE NEED for the temple is simple enough: space. Their small farmhouse, which also functions as a meditation room, only holds about 30 people, far from the up to 200 people who come for major holidays. "Many people come to this temple but the hall cannot support [them]," said Sunya Nakyai, a monk at the wat. The new temple will be used only for celebrations while the farmhouse will remain a residence for the five monks and a space for mediation.
Participation in the temple's activities has grown over the years as word of the temple has spread, and a larger building is something they have long wanted. Most of the members of the temple are Thai, but there are also some Laotians, Vietnamese and Americans. Anybody interested is free to attend.
"We welcome anyone," said Pokin.
Nakyai, who has been a monk at the wat for three years, said in addition to the festivities, Buddhism and Thai language classes bring between 30 and 40 people to the temple. A handful also attend group meditation sessions which take place on Sunday nights, from 6-7 p.m. and Tuesday nights, from 7-8 p.m.
The new 3,300-square-foot temple is being modeled after one in Thailand with a decorative gold color and curved roof on the outside and two rows of columns and a 12-foot golden Buddha in the center on the inside.
FOUNDED IN 1988, Wat Yarnna Rangsee settled in Sterling after an odyssey that brought them first to Falls Church, then to Fairfax in 1991 after outgrowing their first temple and finally to Sterling in 1996 following years of zoning conflicts in Fairfax.
According to the Web site, about 1,000 Thais live in Northern Virginia, but Wat Yarnna Rangsee is far from the only temple in the Washington, D.C., area. There are wats in Alexandria, Silver Spring, Md., and Acokeek, Md., among others.
Ampol Sutheero, a monk at Wat Thai in Silver Spring, said his temple draws Buddhists from as far as North Carolina and New Jersey, and about 2,000 people attended a Thai New Year celebration in April. He believes that wats can benefit both Buddhists and non-Buddhists. "They can help society to be peaceful" by teaching techniques such as meditation and other ways of relieving stress. It is a way, he said, for people to "clean their mind, and have peace in their mind."
Wat Yarnna Rangsee is now preparing for Buddhist Lent, Nayaki explained as he pointed to a picture of the Buddha lying on his side with his head elevated and resting on his hand, the way he always slept. During the holiday, which begins this Sunday, monks must sleep indoors, and monks in training are traditionally ordained. Laypeople are expected to live a more ascetic lifestyle, giving up certain amenities.
Sunday's events include a special religious ceremony, lunch, a discussion of the Buddha's teachings and the giving of robes and candles as gifts to the monks.