The Heart of Reality
By D. D. Delaney, Port Folio Weekly, Jan. 23, 2007
The world, according to Khenpo Tsultrim Tenzin Rinpoche. (No, you don't need to be able to repeat that. Just go hear what he has to say.)
Virginia, USA -- The American relationship to Tibetan Buddhism may be well expressed, metaphorically, in a recent telephone conversation I had with Khenpo Tsultrim Tenzin Rinpoche, an Indian monk who will bring essential Buddhist teachings to the Seven Cities for three days, beginning on Jan. 26.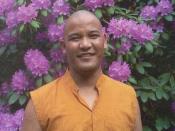 << PATH TO ENLIGHTENMENT: Khenpo Tsultrin launches his Buddhist teaching here in the Seven Cities.
Khenpo is taking classes in English as a Second Language at Montgomery College, near the Tibetan Meditation Center in Frederick, MD, where he's been a resident since 2001. I sit with some regularity at twice-monthly meetings of a Norfolk Buddhist sangha—roughly translated, that's Sanskrit for "spiritual community"—where I struggle with concepts of non-materiality advanced in dharma talks—lectures by accomplished Buddhist teachers—we watch on DVD.
So Khenpo's English is about at the same level of development as my Buddhism—which is to say somewhere around a fifth-grader's understanding of algebra. And with his cell phone, which kept breaking up, adding to the consciousness divide, our communication at times seemed as uncertain—and comical—as messages exchanged imperfectly in a dream.
(No harm done, though, since in Buddhism life is a dream!)
So your best bet, if you really want to know the story, is to go to his free public lecture, "The Tibetan Buddhist Perspective on Consciousness." Sponsored by the Old Dominion University philosophy department, the lecture will be held in the Richmond Room of the Webb Center, #1104, on Fri., Jan. 26, from 7:30 -9 p.m.
You can follow that up with his weekend workshop, "The Heart of Reality," at the Heritage Center, 314 Laskin Rd., Virginia Beach, beginning at 11 a.m. on Jan. 27 with an introductory session on "The Four Dharmas of Gampopa" and moving on in the afternoon and all day Jan. 28 to "The Heart of Reality," an explication of a central Buddhist text—or scripture—known as the Heart Sutra.
Now, for novices, like myself—and it appears this weekend is designed for novices who, nevertheless, are ready to take a plunge into some serious Buddhist thought—what can we expect from these topics, whose very titles seem so forbiddingly esoteric and...well, downright foreign?
That's what Khenpo and I struggled to clarify in our imperfect but fertile conversation last week.
For starters, then, "Rinpoche" is a title granted to qualified Buddhist teachers. Similarly, "Khenpo," a spiritual and scholastic title, is roughly equivalent in monastic culture to an abbot with a Ph.D. in philosophy, according to Kevin McDermott, founder of the Ratna Shri Sangha in Virginia Beach.
Ratna Shri Sangha, which meets twice a month at the Heritage Center, is affiliated with the "lineage" represented at the Frederick center. A lineage is a spiritual family which follows the particular take on Buddhism set forth by an individual teacher, in this case the 12th-century "highly revered jewel" (ratna shri) Jigten Sumgon. There are scores of lineages in Tibetan Buddhism, McDermott explains, with an ongoing internal challenge, as in all institutional religions, to maintain noncompetitive contact and doctrinal sharing.
Khenpo Tsultrim—as he is individualized—will launch his teaching here with, as he says, "the best information on Buddhism," given by the 9th Century Grand Master Gampopa in four dharmas. A "dharma" is a Buddhist teaching, but it is also the practice of a Buddhist teaching.
"Dharma," says Khenpo, "becomes the path, not just for knowing but for practice and to use to achieve enlightenment." Without dharma—precept and practice—the mind exists in confusion. But once on the path of dharma, a student's confusion is dispelled as "primordial awareness" enters the mind. Primordial awareness is perception of one's "true nature, the nature of our mind," which Khenpo calls "emptiness."
Westerners who do not disdain emptiness as escapism generally fear it as an open a door to evil influence, and therein, it seems, lies a fundamental misunderstanding between East and West.
"Emptiness is not nothingness," Khenpo emphasizes. "Some people think that, but it is a wrong view. Nothingness is nihilism. Emptiness is our true nature." And revelation of our true nature—attainable, eventually, through a consistent practice of meditation and a moderate, simple lifestyle—is enlightenment, a permanent state of understanding which dispels all worries, including the debilitating fear of death.
With that introduction, then, students will hopefully be prepared to follow Khenpo through a detailed discourse on the Heart Sutra, a deceptively brief couple of pages of text whose "main idea" is the mind-bending core statement that "all form is empty, and all emptiness form."
That, he says, is "the nature of phenomena and of our true nature," which, when understood, allows us to live "with more compassion and love."
Khenpo, 36, grew up in India, entering a Tibetan monastery when he was 14. "I don't remember exactly how I decided to be a monk," he says. "My mom—or someone—asked me if I wanted to, and I said yes."
One of the reasons for his choice was to help his family. "In our Tibetan society we believe...if one can become a monk or nun the whole family merits," leading to the possibility of improved circumstances for them in future reincarnations.
But a more fundamental reason for choosing a spiritual life is "because we have to die. We cannot take anything we achieve in this life"—material goals, that is—as having lasting value. "Everything changes, everything's impermanent, all phenomena is illusion." By looking deeply into this predicament, which monastic life facilitates, there is the promise of eventually becoming liberated from its sorrows.
Suggested donation for Khenpo's "Heart of Reality" tutorial is $65, but any amount is acceptable and no one will be turned away. For more information, call 343-3782 or 235-1317.