Food, peace, love and understanding
By RITA FARLOW, St. Petersburg Times, August 13, 2007
On the menu at a vegetarian food festival: Buddhism
ST. PETERSBURG, Florida (USA) -- Short of finding a fresh salad bar, it's hard to be a vegetarian, said Sandy Diaz. "It really limits where you can go," she said.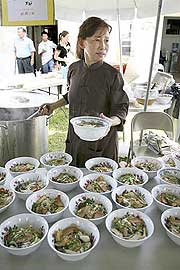 << James Borchuck | Times
Dieu Mai Nguyen prepares a bowl of Pho, or flat noodle soup, at the Ethnic Vegetarian
On Sunday, Diaz, of St. Petersburg, decided to try her luck with the fare at this year's Asian and Vietnamese Ethnic Vegetarian Food Fest at Chua Phat Phap Buddhist Temple.
She wasn't disappointed.
"I loved the soup," she said. The food festival begins the monthlong period of fasting - in this instance abstaining from meat - before the annual Ullambana celebration on Sept. 9.
"It's to honor the parents who have passed away and also those who are still alive," said temple member Tanya Vu.
The food festival is a great way to reach those who are curious about Buddhism, Vu said.
"We just want to introduce the culture and the religion to the community. This is our philosophy, to give love and care, to give peace, to everybody," Vu said.
And a little sustenance.
Besides the veggie fried rice and lo mein, festivalgoers could try such traditional Vietnamese treats as banh chung, which are rice cakes wrapped up in banana leaves like tiny little presents.
Dessert offerings included sweet rice with pinto beans and coconut or fresh mango in sweet and sour marinade. Fresh sugar cane juice was a popular choice to wash it all down.
For Diaz, who was juggling take-out containers, it was all about the noodle soup and fried bananas.
"We ate and then got more to go."