Buddhists celebrate parents, ancestors on Sunday
By ROSE YBARRA, The Beaumont Enterprise, Sept 1, 2007
PORT ARTHUR, Texas (USA) -- When Tiffany Tran moved to Port Arthur from Vietnam as a teenager, she was shocked to learn that most of her American peers no longer had to answer to their parents or grandparents once the kids turned 18.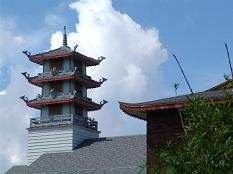 << Buu Mon temple in Port Arthur celebrates Le Vu Lan (Parent's Day).
"I would hear people say, 'I'm 18, I can do whatever I want,'" said Tran, now 44 and owner of a nail shop. "In my culture, it doesn't work like that. No way!"
Tran said her culture dictates that she revere her parents and other elders in her family for the rest of her life but it's an expectation she meets with pleasure.
"My parents have always taken care of me and supported me," she said. "It's my turn to take care of them now."
Tran is not alone.
An unconditional love and respect for parents, elders and ancestors is a universal virtue in Far East cultures, said Li-Chen Ma, chairman of the sociology department at Lamar University in Beaumont.
"It's called filial piety and it's the foundation of the Confucian value system," said Ma, a native of Taiwan.
"Having unlimited love, respect and dedication to your parents is very important in most Asian countries. Being a good son or daughter is a duty most Asians take very seriously."
Interaction
The Tran family is among the dozens of local families set to honor their parents, elders and ancestors on Sunday at the Buu Mon Buddhist Temple's annual Vu Lan or Parents Day, celebration.
On this occasion, Buddhists around the globe offer prayers of thanks to their deceased relatives and honor their living parents and elders.
Rev. M. Kassapa, meditation instructor for Buu Mon Buddhist Temple, said he especially enjoys watching the elders interacting with the youth during the celebration.
"It's really marvelous to see," Kassapa said. "Older people are a fountain of knowledge and they can be the best teachers for the youth. We can all learn a lot from each other."
Youths from the Buu Mon Temple fashioned red and white paper boutonnieres and will distribute one to each person before the ceremony begins.
Wearing a red flower indicates that the person's mother is still living while a white flower means the person's mother is deceased.
The ceremony will include chanting, prayer, and folk dancing by the temple youth and will conclude with a vegetarian lunch.
The notion of "respecting your elders," has evolved over the years, in both Eastern and Western cultures, Ma said.
"Basically, it meant unconditional obedience," Ma said. "In the past, you could not disagree with your elders or your parents, even if they were wrong. Respect for elders was automatic. Now, many, especially in Western countries, believe respect should be earned, regardless of age."
Ma said it's common now for Asian and Asian-American parents and children to argue respectfully with their parents or agree to disagree, especially in educated families.
"But the key is respect," Ma said.
Tran said when she was growing up, adult children were not permitted to leave- not even for college - their parents' home until they married.
Balance
On the one hand, that connection furthered ties. On the other hand, it could cause tension.
Tran believes she has struck a healthy balance with her children.
She raised her children with many of the Vietnamese principles and values she learned growing up.
She supported her two adult daughters when they chose to leave home to go to college. She plans to do the same for her two sons, both students at Port Neches-Groves High School.
"It's their lives, their futures," Tran said. "I want them to reach all their goals."
Tran's 16-year old son, Timmy Pham, a high school junior, said he appreciates his family's culture, strong bond and shared values.
He and his cousins especially like spending time with their grandfather, Pham Tran, 65, who lives in Port Arthur.
"He's taught us to be respectful and to work hard," Timmy Pham said. "He always tells us, 'Don't be lazy.' "
Timmy Pham said his parents and grandparents are much stricter than his friends' parents but on the flip side, he also knows that he'll always have a strong support system in his family.
"Even if I move away for college," he said. "We'll talk every day, we'll stay close, no matter what."
Ma said while a deep respect for elders is more obvious in Asian cultures, the concept is also widely practiced the United States.
"Many people believe Americans don't have the same respect for their parents as other cultures but that's not true," he said. "We do honor and respect them, just not so unconditionally."
Ma said many American parents like to be independent and raise their children to be independent.
For the Tran family, Vu Lan is a bittersweet celebration.
Pham Tran is proud of his living family, which spans five generations, beginning with his 87-year old mother in Vietnam and ending with his great-grandson, three-year old Anthony, who lives in Port Arthur.
"Five generations," Pham Tran said. "Not too many people have that. It's good."
But Tiffany Tran will be wearing a white flower on her lapel for the second year. Her mother died in May 2006.
"My mother means a lot to me and she's always in my heart," she said.
"It's hard for me to look around the room and see all the people wearing the red flowers. It's a happy day for them but a sad day for me."
Tiffany Tran also lost her 11-year old daughter, Stephanie, in March 2006, but she has found the strength to keep going through her strong Buddhist faith and her family.
"I've realized the money, the cars, the house, the boats, they don't matter," she said. "My family is more important to me than anything."
If you go :
What: Celebration of Le Vu Lan (Parent's Day).
Where: Buu Mon Buddhist Temple, 2701 Procter St., Port Arthur.
When: 9:30 a.m. Sunday.
Cost: Free.
Contact: (409) 982-9319.