Simply letting go
By Tina Firesheets, Oct. 7, 2007
Greensboro, NC (USA) -- Clad in an orange robe, Darrell Kitchen sits on an elevated platform in this Buddhist temple, where he receives offerings of rice, fish and vegetables.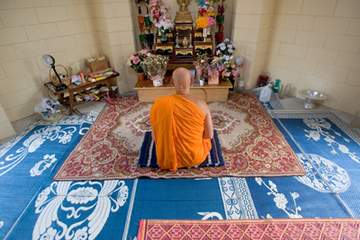 << Darrell Kitchen spends time meditating in the Peace House, which he calls the "bone room" because people's cremated remains, sometimes with bone fragments, are placed within the walls.
Credit: Joseph Rodriguez/News & Record
Three men standing below wave away flies while the rest of the crowd watches him eat. When he's done, the lay people share the leftovers. It's considered good luck to eat rice from the monk's bowl.
It has been a long spiritual journey that led Kitchen, 51, to this place.
Three years ago, he was a network systems administrator for a busy advertising firm. Now, he's one of two American monks living at the Greensboro Buddhist Center off Liberty Road in southeast Greensboro. Its members are from Cambodia, Thailand and Laos.
To become a monk, the Kentucky native gave up most of his material possessions to adopt a simple lifestyle devoted to the teachings of Buddha.
He chants and meditates daily. He consumes only what he needs to survive and undertakes activities that serve others.
The transition from mainstream life to that of a monk isn't an easy one for most Americans. Kitchen speaks only English and is unable to communicate very well with most of the lay people or the two Thai monks. He's still trying to learn their culture.
Becoming a monk in America requires great sacrifice and self-discipline. Kitchen is adjusting to this, too.
So, why would this American man become a Buddhist monk?
Before studying Buddhism, Kitchen was often angry and easily agitated. His temper even got him fired once. Buddhism helped him become a more peaceful man.
But it wasn't enough that he just become a Buddhist. Kitchen also wanted to free himself from desiring material possessions or harboring ill will toward others. He wanted mental clarity.
He had to become a monk. Kitchen was drawn to religion throughout his life. And he always questioned it. Even as a boy.
His parents were Christian Scientists, and one of his earliest church memories was of a confrontation with his teachers there. He thought they placed too much emphasis on Mary Baker Eddy, the founder of Christian Science.
He remarked one day: "You know, I might as well worship the devil, because you guys talk more about Mary Baker Eddy than you do God. In fact, that's what I think I'll do."
And he did. His parents weren't pleased with his studying witchcraft, demonology and the occult. His stepmother even thought he put a curse on her brother after finding a voodoo doll that resembled him.
Life at home was troubled. His mother died of a drug overdose when he was 10. Kitchen's father was an alcoholic who became abusive when he was drunk.
"It was sometimes the fear-for-your-life kind of abuse," says Kitchen, who bore the brunt of his tirades.
When he was about 16, he joined a friend at church, just to have something to do.
"I felt that God was something to be hated at the time," Kitchen says.
During the service, he kept reciting verses from the Satanic Bible in his head. But he couldn't deny that he felt something different. It was almost like peace. And curiosity. He asked to return to church with his friend.
Kitchen left home when he was 17 to live in a Christian Development Center in Kentucky. A year later, he enlisted in the Army to avoid being drafted. Kitchen didn't believe in taking human life and refused to carry a weapon during drills. Though he was criticized for it, he didn't change his mind. His six years of military experience taught him to be self-sufficient, he says.
After the Army, Kitchen returned to the Christian Development Center for two years. Residents prayed often, attended Bible studies and worked on a communal farm. Kitchen says he prayed a lot, but it seemed that God did not answer his prayers. Prayer also didn't bring him peace. The anger he felt toward his father never dissipated.
He left the center and eventually turned to theories that could be scientifically proved: quantum physics.
MEDITATION
To meditate successfully, you must ignore what's going on around you.
You don't hear passing cars or the neighbor calling his dog. You don't feel the fly that lands on your wrist or the ant that scurries across your foot. You don't notice that your leg is cramped or that your foot has fallen asleep.
Buddhists meditate to still their minds so that they can focus on the teachings of Buddha. Everything comes from within a quiet mind. You're not going to get it right the first time you do it. It's like going to the gym; it takes practice.
"I'm still not good at it," Kitchen says.
Before he became a Buddhist, Kitchen could hardly stay focused. His mind wandered constantly.
Now, he sits cross-legged on a tree stump beneath a sapling at the temple. One hand lies over another, his thumbnails touching. He looks as if he's asleep. Occasionally he glances at a stopwatch on his lap. He must meet the other monks at 8 a.m. to chant.
If he begins to fall asleep, he'll open his eyes halfway.
As hard as this is for him, Kitchen says, he's proof that people can do anything if they want to badly enough.
TRANSFORMATION
Paññadharo.
It's the name Kitchen was given on the day he was ordained. Pañña means "wisdom."
Dharo means "in a container," like in a cup or bowl. The name Paññadharo translates as "container or holder of wisdom."
It was given to him based on a formula that includes his birth date and the actual day on which he was born.
There aren't many American monks in the area, but some visit the Greensboro Buddhist Center, head monk Somsak Sambimb says. The veteran monk, who was ordained when he was 12, watches their behavior and gets a feel for their intentions. Some people are trying to run from something, Sambimb says. They're easy to read and usually don't stick with it.
Kitchen was always searching for something.
For a time, he turned to quantum physics. The more he studied physics, the less he believed in God as Christians see him -- as a separate entity.
Then one night at a party, one of his guests talked about Buddhism. Kitchen heard a lot of similarities between Buddhism and quantum physics. For example, Buddha wrote that he recalled the universe collapsing and expanding. This knowledge unsettled and confused Kitchen.
"I was afraid of getting myself trapped in another religion," he says.
But as he studied Buddha's teachings, he began to change.
"I was wrapped up in anger. I was wrapped up in greed ... but mostly anger. Anger for my father," Kitchen says. "Every time I failed at something, I kept hearing his voice, saying, 'You're not good for anything,' "
Studying Buddhism helped him lose the anger. He retrained his mind.
"Anger comes from the mind. Love comes from the mind. Everything comes from the mind of the individual," Kitchen says.
He studied Buddhism with a Tibetan monk in Louisville and began to meditate as he walked to and from work. On those walks, he was finally able to achieve a calm state of mind.
A turning point was when he saw his father for the first time after a 20-year estrangement.
Kitchen told his father, sick with cancer, that he forgave him. He also told his father that he intended to become a monk and read the Tibetan Book of the Dead to him.
It doesn't matter that his father never apologized to him, Kitchen says. "Things happen because they're supposed to happen."
If one thing in his life had changed, he might not have become a monk, he says.
A meditation retreat brought him to the Greensboro temple, where Theravada Buddhism is practiced. Theravada (terra-watta) means "the teaching of the elders," and lessons are passed down by senior monks. At the retreat, Kitchen was ordained as a novice monk. A month later, he returned, requesting a higher ordination to study under Sambimb at the Greensboro Buddhist Center.
Kitchen was finally ordained on July 4, 2005, at a temple in Lexington. He was slightly nervous, unsure of how the ceremony would be carried out or what he should do.
But he was absolutely certain it was the right decision.
"I knew the life that I had chosen, and this is what I had wanted from the first year I started practicing Buddhism," Kitchen says.
MONK LIFE
Kitchen rarely knows how his day will unfold.
The only rituals he counts on are morning and evening chantings. The monks chant in a candlelit room with a floor-to-ceiling shrine that holds Buddha statues and offerings of flowers, incense and candles. They chant facing the altar for 40 minutes or an hour, depending on Sambimb. The smoky aroma of incense envelopes their sutras, or suttas -- teachings of Buddha.
After their midday meal, the monks perform chores around the temple. They may perform a blessing ceremony at a lay person's new home or business. Sometimes they perform blessings when someone is ill or dies.
In Southeast Asia, it's common for young men to become monks. Some families also are so poor that a son may be ordained because he may gain from it. He will be fed, clothed and may even be presented educational opportunities.
In America, where the standard of living is much higher, a man gives up more to become a monk.
"Not many people become monks because they don't want to give up their lifestyle. They like money, clothes, cars -- things that define them," Kitchen says.
Monks own their robes, towels and toiletries. Some monks may own a cell phone or television. Kitchen owns neither but has two computers and some books. When he worked, Kitchen owned five computers. As a young man, he wanted a lot of things, he says. "It wasn't until I became Buddhist that I put an end to the degree of wanting I was 'controlled' by."
Monks don't make a salary and aren't supposed to have a lot of money. In Southeast Asia, a monk is called a bhikkhu (bee-koo) or beggar.
"I'm a professional beggar," Kitchen says, with a laugh.
The lay people give Sambimb money for their temple's upkeep. They also make monetary offerings to the monks. Kitchen may receive $2 or $20 in an envelope. Sometimes monks receive a basket called a dana (dah-nah). It's filled with toiletries and food, and money may be hidden in it.
Kitchen puts their monetary offerings in a bag and often forgets about them. "I'm constantly finding envelopes with money in it," he says.
Before Kitchen's ordination, he cashed out his 401(k) to pay off his debt. He keeps a checking account with no more than $200 in it. Most of the money he's given is used buy things for the temple, such as a water pump or a lawn mower. Sometimes he buys himself a book or chocolate.
MONK BEHAVIOR
Monks give up much more than material possessions. They even sacrifice simple indulgences such as eating food just because it tastes good.
Monks don't dance. Or run. Or jump for joy.
They're not supposed to laugh aloud with lay people. They can have a sense of humor, as long as they don't get carried away with it.
"But we're not under a whip," Kitchen says, with a smile.
Kitchen walks quietly, his pace unhurried. It's almost as if he floats across the temple grounds. He is soft-spoken, though his voice rises when he talks about something that amuses or excites him.
Though not unfriendly, Kitchen doesn't go out of his way to approach the lay people just to talk. Besides, monks don't engage in idle chatter.
Monks abstain from sex and alcohol. Monks also aren't allowed physical contact with women, not even a tap on the shoulder to get someone's attention.
Monks don't develop close interpersonal relationships, which wasn't a concern for Kitchen. His own family always struggled to maintain contact with him.
Kitchen also had no qualms about taking a vow of celibacy. Always shy, Kitchen says he never felt comfortable pursuing romantic relationships. "I was your common geek nerd."
Monks should also give up things that might bring them pleasure, such as smoking or eating their favorite foods. They may eat in restaurants but can't visit the same establishment two days in row, as it indicates attachment.
Monks deny themselves, Kitchen says, because things that are pleasing can inspire greed.
But he still reads the comics in the newspaper. Sometimes he even laughs over them. He likes Starbucks coffee.
A science-fiction buff in his former life, he rented the movies "Spider-Man" and "Fantastic Four" recently. He neither tried to hide his actions nor did he go out of his way to make them known.
"I'm still a junior monk," he says, defending himself.
"Still, I should be letting go of these things."
It's all part of the journey.
There are days when Kitchen may struggle to free himself of even the simplest human desire, such as laughing or eating something delicious. There are days when meditation -- keeping his mind from wandering to the past or future -- is extremely difficult. He often feels like a foreigner trying to understand a culture that he knows little about.
But this Buddhist monk has finally rid himself of the things that kept him from finding peace. The anger is gone.
Buddhist Temples in Greensboro
Greensboro Buddhist Center. This temple practices Theravada Buddhism. Most members are Cambodian, Thai or Lao. 2715 Liberty Road, Greensboro, 272-1607
Chua Quan Am. This Vietnamese temple practices Mahayana Buddhism.
1410 Glendale Drive, Greensboro, 854-5238