Buddhist community grows in South Florida along with Thai temple
Canadian Press, Dec 29, 2007
HOMESTEAD, Fla. (USA) -- Between the alligator-infested Florida Everglades and the craziness of Miami Beach lies a peaceful centre surrounded by tomato and fruit farms.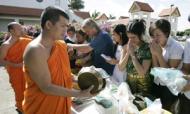 << Phramaha Thanee Khonkla and other Thai Buddhist monks gather alms from members of the Buddhist community at the Wat Buddharangsi of Miami temple in Homestead, Fla. THE ASSOCIATED PRESS/J. Pat Carter
Wat Buddharangsi, a Thai Buddhist temple, is unexpectedly found on two hectares in the rural town of Homestead, a short drive from Miami. To get there, you have to take the roads just off U.S. 1 that surround dozens of farm and fruit trees, dominated by immigrants who work in the fields. Across the corner is one house with the American flag waving in the light breeze, life-size statues of soldiers standing in the front yard.
For several years now, though, the area has been visited by Buddhist followers seeking a serene environment to pray and meditate.
Inside the temple sits a five-tonne, seven-metre tall golden Buddha statue, with dozens of smaller statues and vases filled with burning incense and flowers surrounding it.
A secluded, garden-like area in front of the "Buddha tree" is for meditation and prayer, where worshippers bow three times on a wooden platform to pay respect.
Visitors place a gold leaf on the Buddha as a blessing as a way for others to be part of the Buddha, explains Khanya Moolsiri, the secretary for the temple. (A gold leaf on the forehead is a prayer for wisdom; on the heart is a prayer to find love or for good health).
The temple welcomes everyone who is interested or practises Buddhism, serving not just as a religious function but also as a welcome centre.
"It becomes a community centre for the Thai, Asian, Buddhist or for anybody," Moolsiri said.
There is a six-bedroom apartment on the grounds where several monks live, sleeping on hard platforms. There is a screened-in kitchen with picnic-style seating, covered by what appears to be a tin roof.
The temple was designed by Nopporn Poochareon, a Thai native who has worked as a general contractor and now owns two Thai restaurants in Miami.
Poochareon had to go to Thailand to get most of the decorative details for the temple, including the gold roof etchings and wooden-carved chairs for inside. He hired workers there, he says, to ensure the temple resembled those in Thailand.
"Maybe 50 families lived in Homestead at the time. We didn't have the temple," he said. That was 20 years ago. After much searching across South Florida, and many setbacks due to zoning issues and funding, Poochareon was finally able to purchase the land.
The total price tag has reached US$1.5 million now, most of which has been raised by temple members and support from local Thai business owners.
But Poochareon's vision still needs some work. Finishing touches need to be completed on the adjoining buildings, which are missing the typical Thai decorations on the roof. That could add another $100,000 to the overall cost.
"Thai people like to dress up the building," he says, referring to the bold touches of gold.
There are also plans to build a larger meditation hall on the grounds to hold the increasing number of visitors.
On U.S. Thanksgiving Day alone, for example, nearly 3,000 visitors attended the religious services. On other Thai holidays, the temple sees half that number, Poochareon estimates. Five to 10 people go to the temple everyday, with significantly more on the weekend. No one keeps an official count.
"People are curious and want to know about Buddhism," he said. And the temple is a perfect place where the Buddhism practice can be taught.
If You Go...
WAT BUDDHARANGSI: 15200 S.W. 240th St., Homestead; http://www.watmiami.org or 305-245-2702. Open daily 7 a.m.-5 p.m. Admission free. Meditation, Sunday 3-5 p.m. Morning chanting at 6 a.m., evening chanting, 6 p.m. Located about 35 miles from Miami; directions at http://watmiami.org/location.en.php.
OFFERINGS AND BLESSINGS: Many visitors ask for blessings from the monks, who offer daily prayers, counselling and a sprinkling with holy water to wish everyone a happy and healthy life. They also perform marriage and funeral services. Visitors are also welcome to offer food to the monks, as is common practice in Thailand. (Prepared food is accepted in the morning; non-perishable food and donations are accepted throughout the day.)
LUNAR NEAR YEAR: Thai Buddhists celebrate the Lunar New Year in April with a religious ceremony. (Chinese New Year is in February.)