Monks take part in Buddhist ritual
By Polina Diaz, News-press.com, July 19, 2008
Temple located in North Fort Myers
Fort Myers, FL (USA) -- Four monks, adorned in orange robes with a hint of yellow, sat on an elevated platform recounting chants and Buddhist customs.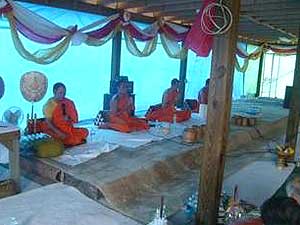 << Monks at Wat Lao Dhammavanno in North Fort Myers conducted a ceremony last week. (Polina Diaz/special to news-press.com)
But this is not a country in East Asia - it's right around the corner in North Fort Myers.
Monks at Wat Lao Dhammavanno, a Buddhist temple built in 1999, conducted a ceremony last Sunday to honor Buddha and other religious customs. As part of the Buddhist lent, the ceremony initiates a period of hibernation and purification for the four monks. They must reside solely in the temple. If they do migrate outside its boundaries, they must return to spend the night.
For the next three months, the monks will endure only two meals a day, breakfast and lunch, to cleanse themselves of toxins. If, however, an emergency arises during the span, the monks must return in no less than seven days and continue their tasks.
Lot Kleawpean, 44, a regular at the temple, was born in Laos. Her family has close ties to Buddhism, and her two uncles lived as monks in her home county.
"When you come here, you need to make yourself concentrate and be free," she said.
The monks pray and spread blessings to begin the ceremony, and the members then empty bowls or rice - or other things such as donations or bottles of water - into a series of vases. Getting rid of possessions is a form of prayer for deceased relatives and ancestors. The temple members then arrange food into four large containers for the monks.
Pheung Soundara, 56, is motivated to attend the ceremonies not only to preserve her faith, but also to interact with the community and her close friends.
"Members here are like a family," she said.
Bounlam Phimmasone, 46, said the temple's philosophy is "step by step" - everyone contributes resources and necessities. Members hope that a new temple reminiscent of the large, grandeur places of worship in their home countries can be built in the future.
"The temple now is temporary - they just do not have enough money to build another," Phimmasone said.
The next large ceremony will be April 15, which is the Buddhist equivalent to a New Year.