Buddhist assembly seeks bigger temple
by David Bracken, The News & Observer, Jan 7, 2009
RALEIGH, NC (USA) -- When a small group of Vietnamese Buddhists bought property on Forestville Road in 1987, few could imagine the world they would end up creating in northeast Raleigh.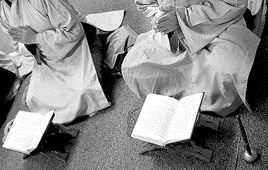 << Congregation members pray during Sunday services at the Phat Tich Van Hanh North Carolina Buddhist Association Center. The group's expansion request faces tall hurdles.
Through hard work and diligent fundraising, the congregation has turned a rural six-acre site into a sanctuary for Buddhist worshippers.
Life-size statues imported from Vietnam dot the property, and four outdoor platforms depict key points in the Buddha's life -- his birth, his decision to take on the life of a monk, his first sermon and his passing.
Van Pham of Cary blows out used candles so she can replace them before Sunday services at the Phat Tich Van Hanh North Carolina Buddhist Association Center. The group has requested Raleigh's permission to expand its temple.
"My job is stressful, so I come here to ease my mind," said Phanhoa Tran, 56, a nurse at Rex Hospital who prays at the temple three or four times a week.
In September, the congregation asked the city to rezone a portion of its property so that it can build a new indoor temple to accommodate its growing flock. The new temple would be twice the size of its existing worship hall.
The congregation is asking the city to rezone its property from a conservation management district to residential.
The request is scheduled to be discussed at a Jan. 20 joint public hearing of Raleigh's City Council and Planning Commission.
Du Dinh Le, 52, a member of the congregation and a secretary with the N.C. Buddhist Association, said building the new temple would cap years of hard work.
"All the work around here is us and volunteers," Le said.
A group of Vietnamese immigrants in the Triangle pooled their money in 1987 to purchase a ranch house on a two-acre lot along Forestville Road. They called their group the N.C. Buddhist Association and eventually named the temple Phat Tich Van Hanh after a meditation monk who practiced in Vietnam many years ago.
In its early years, the group either met inside the house or rented space at local schools.
In 1995, the association invited a monk, or "most venerable," named Thich Thien Tam to lead its temple. Tam, whom congregants call "master," is a former chaplain in the Vietnamese army who spent more than a decade in prison after Communists took over the nation.
Tam's arrival marked the beginning of a sustained effort to improve the property.
"The master, he worked really hard to get where we are now," said Anh Kim Phan, 60, who began attending services at the temple eight years ago after moving from Pennsylvania to Raleigh.
A building constructed next to the house became the current temple. In 1999, the association bought adjacent land behind the house and temple that extended to a pond.
Over the next several years, about 20 statues were shipped from Vietnam and placed around the property. There's a statue of a water buffalo at the pond's edge.
The temple hosts two weekly services, on Friday evening and Sunday morning.
Le said those services usually attract dozens of worshippers. Major religious holidays, such as the Buddha's birthday, can attract hundreds of people from as far away as Wilmington and Fayetteville, he said.
The initial design plans for the new temple were drawn by a Vietnamese firm because few U.S. architects have experience designing Buddhist temples.
"In Vietnam, building a temple is nothing special," Le said.
The association plans to translate the plans for city officials if it wins its rezoning case.
Dwight Poole, who lives across Forestville Road from the temple, said he supports the congregation's latest expansion.
"They're the best neighbors we've ever had," Poole said. "I'm all for it."