Lao-American Buddhist community working to rebuild burned temple
By DIANE SMITH, Star-telegram.com, Sep 4, 2009
FORT WORTH, TX (USA) -- Wat Lao Thepnimith looks like a postcard from Southeast Asia planted in a suburban patch of houses nestled in northwest Fort Worth.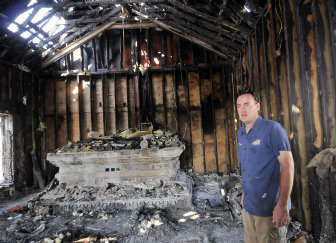 << STAR-TELEGRAM/MAX FAULKNER
Joe Dietrich, who has been serving as spokesman and interpreter, talks about a Buddha statue that melted in the fire.
The Buddhist campus is the heart of a Lao-American Buddhist community that began resettling in North Texas in the mid-1970s. Many of the estimated 11,000 members are refugees of Communism who fled after the Vietnam War — a conflict in which many Lao were allies of the United States.
On Aug. 24, a fire destroyed the campus temple, the Sim Building. Rebuilding is the only option for a structure described as a labor of love. "We are really so, so sad," monk Kommana Vongphakdy said.
Strangers touched by the story have brought donations. The community is working with Fort Worth to line up blueprints and permits.
"This is their building. This is their house. This is their heart and soul," said Joe Dietrich, a lay member of the temple who has been serving as spokesman and interpreter for the temple community.
The campus, at 7105 Marvin Brown St., near Saginaw, took root more than 20 years ago as a place of worship and as the cultural center of the Lao community. Through the years, the community expanded the campus.
"It started out originally as a mobile home," said Dietrich, explaining that monks and volunteers built the temple and continue to make improvements. Construction of an ornate campus entryway was under way before the fire delayed their work.
Worshippers from across the Metroplex celebrate the monthly religious ceremony, Thak Baht.
Festivals such as the Lao New Year in April draw thousands of Lao-Americans from across Texas and the United States to the campus, Dietrich said. Some events have had up to 26,000 people, he said.
"The whole neighborhood gets involved," Dietrich said.
The Sim Building was a place of meditation, prayer and religious study for the Buddhist monks. The temple's exterior featured ornate teardrop-shaped gold tiles and mirror pieces that are common in Lao architecture, according to temple members. Many of the materials were brought from Laos, Dietrich said. "It's all done by hand," he said.
Inside, the melted remains of an 18-foot-tall Buddha sit amid ashes and debris. Small statutes depicting the first Buddhist monk to arrive in the Laos region were also destroyed.
Dietrich said the statutes are given to people who donate to or volunteer with their Buddhist community.
The damage is estimated at $350,000 to $400,000, Dietrich said.. And while saddened by the loss, volunteers are not dwelling on the negative.
"What is done is done — that is what Buddhism teaches," Dietrich said.
"A lot of us in the community, we believe everything happens for a reason."
How to help Call the temple at 817-238-8543.