At OU, Tibetan luminary speaks on value of tolerance
By Daniella Limoli, Athens News, September 25,2011
Athens, Ohio (USA) -- A renowned Tibetan monk spoke on the importance of practicing tolerance in everyday life in Ohio University's Walter Hall Rotunda last Wednesday. The visit was hosted by the Athens Karma Thegsum Chling (KTC) and the OU Tibetan Buddhist Study Group.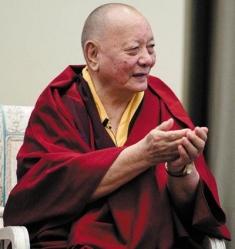 << Khempo Karthar Rimpoche, a Tibetan Buddhist abbot in the Karma Kagyu line of Buddhism, addresses local community members and Ohio University students about the importance of tolerance and empathy at the Walter Hall rotunda in Athens, Ohio on September 21, 2011. Khempo Karthar Rimpoche is one of the few remaining Buddhist elders to have studied in Tibet before Chinese communist rule came to Tibet in 1951. Photo: Kevin Briggs.
Lama Kathy Wesley, who serves at the Columbus KTC Meditation Center, introduced Khenpo Karthar Rinpoche. She said that the 87-year-old was born in the mountains of Tibet and at the age of 12 entered monastery school. He fled the Chinese Communism of Tibet in 1959 with other members of his monastery and took refuge in Bhutan in South Asia.
Wesley said that in 1976 His Holiness the 16th Gyalwa Karmapa sent Khenpo Rinpoche to the U.S. as the abbot of the Karma Triyana Dharmachakra monastery. He has since traveled the nation teaching his lessons of tolerance and compassion.
Translated by Lama Yeshe Gyamtso, Khenpo Rinpoche explained the numerous benefits of practicing tolerance, such as peace, energy and success.
"The true root of tolerance is love and compassion... Someone who is loving and compassionate won't even have to try to be tolerant; they will be automatically tolerant. And because they are automatically tolerant, they will also be energetic and successful," he said.
He later said that, "The limitation is that we fail to realize that just as I want to be happy so do all others... so what prevents love and compassion from becoming tolerance is a lack of empathy."
He explained that people cannot be happy if they limit themselves to concern for their own happiness. "When you understand that people do the silly things they do because they are trying to be happy, you will be much more tolerant."
Stephen Kropf, the assistant director of the Athens KTC, serves as the faculty adviser for the Tibetan Buddhist Study Group at OU that was responsible for bringing Khenpo Rinpoche to speak.
"Well, it's always a blessing to hear one of these venerable men and women speak. They embody a direct line of teaching all the way back to the time of Buddha. So you're having as close to a direct teaching of Buddha as you can."
He added that the teachings focus on the notion that every individual is fighting his or her own kind of battle. "Most of these teachings have a message that resonates with people regardless of time and culture," Kropf said.
"I think that it relates equally to any community, and then each community that has its own specific makeup probably appreciates the teaching in their own unique way," he said. "Anybody that finds themselves in any social context would apply the teachings of tolerance to that context."
Melinda Gard, a member of the Athens KTC, said she took away a "good feeling that a lot of people are really coming together to hear about love.
"I think it's good because people want access to the dharma and teachings, and I just get that people are seeking some wisdom, and a lot of people look up to elders of all sorts," she said. "I think people really have a lot of respect, and a lot of OU students and faculty are seeking wisdom and knowledge."
Kropf said, "I think all people can hear these teachings and lessons and derive something from it. These things can be understood and put into practice. The overarching idea of this is when you do a good deed a good deed is returned to you. It's the notion of karma."
The public is welcome to attend the Athens KTC meetings every Sunday at 10 a.m. at Factory Street Studio on Ohio Avenue for meditation and the study of Tibetan Buddhism.