Tibetan Buddhist monk to share thoughts at local event on finding joy
By Kathleen Folkerth, Leader Online, April 21, 2005
Khenpo Tsewang Gyatso Rinpoche, a Tibetan monk, will be the featured speaker at an April 22 event at the Unitarian Universalist Church of Akron.
FAIRLAWN, Ohio (USA) -- Khenpo Tsewang Gyatso Rinpoche fingers a strand of yellow prayer beads while explaining what Buddhism is. ?When you really study it, it?s named Buddhism, but it?s just truth and reality,? the Tibetan Buddhist monk said. ?There?s not anything strange or funny about it.?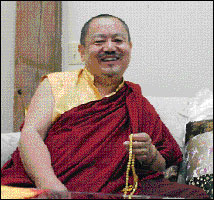 << Khenpo Tsewang Gyatso Rinpoche, Photo: Ken Crisafi
Rinpoche was seated on the second floor of a converted barn in Richfield that will soon serve as a Buddhist temple for a group of Buddhists from the Akron and Cleveland areas.
Rinpoche, who playfully said his age is ?50 and something,? will be in Fairlawn April 22 for a talk and blessing at the Unitarian Universalist Church of Akron, which will serve as a fund-raiser for the new temple.
The talk will focus on ?Finding Joy in Our Everyday Life.?
?The source of joy is compassion and loving kindness,? Rinpoche said. ?We need to be trained in our mind how to develop a sense of loving to all beings.?
He is also spending several weeks in Northeast Ohio as a visiting scholar at Hiram College.
Rinpoche serves as teacher to the local Buddhist group, called Palyul Changchub Dargyeling Ohio. The group began in 2000, according to administrator Maureen Fry, and hosts Rinpoche twice a year.
Rinpoche said he was born in Tibet and fled the country with his family when he was 5 or 6 years of age. They settled in India. He and his siblings attended a school for Tibetans, where they learned English.
At age 10 he was ordained as a Buddhist monk.
?My parents had always hoped I would become a monk,? he said.
His education in Buddhism continued for years. He spent nine years in intense study at the Central Institute of Higher Tibetan Studies, from which he graduated in 1978. He then went to a monastery in South India to teach for several years.
He received the title khenpo in 1993. A khenpo is a professor of Buddhist studies.
Rinpoche made his first trip to the United States in 1991, with his mother, to visit a sister who had married an American.
?The most surprising thing is the roads and cars,? Rinpoche said of his first impressions of the country. ?There are so many cars, everywhere. I started thinking that half of their life [for some people] is in their car.?
He returned to the United States again in 1996, staying for six months, when he was asked to start a Buddhist center in California. Several more centers are now open around the country, so Rinpoche spends about four months at a time here before going back to India.
Fry met Rinpoche in 1999 at a retreat at the Palyul Retreat Center in upstate New York. She asked him to come to Ohio.
Palyul Ohio is made up of about 20 people from Cleveland, Akron, Medina and Bath, she said. The group looks forward to completion of its temple in the next few months.
Once it?s ready, they plan to use the facility for meditation and education.
?People are interested in learning about being more compassionate and loving,? Fry said.
The April 22 program at the Unitarian Universalist Church of Akron, 3300 Morewood Road, will take place at 7 p.m. A $10 offering collected at the door will go toward funding the Richfield temple. Tibetan handicrafts will also be available for purchase at the event. For more information, call the church at (330) 836-2206.
Rinpoche?s free public talks on ?Finding Freedom? at Hiram will be at the college?s chapel on April 27 and May 4 at 7 p.m.