Finding your inner peace and quiet
by Josh Noel, Chicago Tribune, Apr 7, 2012
At Buddhist Center: prayers, reflection and your own yurt
BLOOMINGTON, Ind. (USA) -- No matter how I searched, the Wi-Fi wasn't there. No television either. Even my phone, struggling toward two bars, conspired against modernity.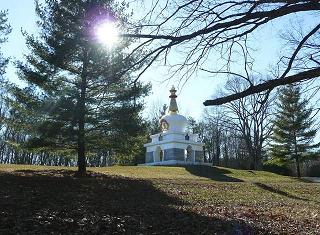 << The Kalachakra Stupa is one of the architectural highlights of the Tibetan Mongolian Buddhist Center. The center was started in 1979 by Thubten Jigme Norbu, the Dalai Lama's older brother. It sits on 108 wooded acres south of Indiana University. / JOSH NOEL / Chicago Tribune
But that's what you pay for at the Tibetan Mongolian Buddhist Cultural Center and its 108 wooded acres south of Indiana University. Not that you pay much. Renting one of the four yurts in these woods costs $65 per night.
What you won't get during your stay: what's mentioned above. Or soap in the bathroom.
What you do get: an eight-sided, one-room yurt (plus bathroom) that's nothing fancy but clean enough to walk across barefoot. You get a kitchenette, twin futons raised a couple of inches off the floor, a skylight and a small deck facing the woods. And, oh yes, inner peace.
I arrived for a weekend stay one Saturday afternoon. Sixteen University of Michigan students were also arriving for an "alternative spring break," as one told me.
"We're staying here for the week while volunteering at a domestic violence shelter in town," she said.
"Wow," I said. "Much more noble than getting wasted in Florida."
"Well, some of us have already made that trip," she said. "We're just looking for a different experience."
The Tibetan Mongolian Buddhist Cultural Center is the place to get it, and that begins with check-in. The office is inside the temple, and I almost committed the no-no of walking in with my shoes on.
But I caught myself, which made it the first time I had checked into an accommodation in my socks. In a yellow-walled office, a woman named Trish handed me a key, but I couldn't take my eye off a bumper sticker affixed to the filing cabinet: "Whatever you do . . . is it necessary, truthful and kind?"
Key in hand and shoes back on, I headed to my yurt, a simple hut at the edge of a dense gathering of trees.
Thubten Jigme Norbu, an Indiana University professor emeritus better known as the Dalai Lama's older brother, started the center in 1979 not only to preserve Tibetan and Mongolian cultures but to "promote interfaith peace and harmony," according to the center.
Of course, the place to do that, as well as stimulate the harmony within, is in the quiet of nature. Though this place isn't quite in the middle of nowhere -- single-family homes surround the property, and there's a Wendy's two miles away -- amid the thick trees and classic Buddhist architecture, things still feel a world away from the chain hotels of downtown Bloomington.
In the quiet and stillness, you slowly come to expect more of yourself -- more thought, more reflection, more deliberation. It slows you to the point that when finding a spider scurrying away for dear life on your yurt's lime-green wall, you shrug and go about your business. All creatures have their place.
As night fell, life was idyllic: a sliver of white moon hanging before twinkling stars and an inky black sky.
After a semi-restless night on one of those futons, I awoke to the bony trees quivering in the skylight. I wished it were summer, so I could see all these trees thick with life.
I made a quick oatmeal -- from oats left in the cupboard -- and headed to morning prayers. I knew nothing about them, but the regulars didn't mind, welcoming me into their sanctuary of maroon pillows on a carpeted floor with a photo of the Dalai Lama at the front of the room. For half an hour, they prayed. Eyes closed and legs folded, I tried centering myself amid their gentle, rhythmic tones.
The monks, unfortunately, were away for the Mongolian New Year, so a Bloomington rabbi stood in as guest speaker. He talked for an hour on the value of compassion.
Then came the weekly vegetarian lunch, which happens every Sunday after prayers and lecture. As we helped ourselves to spinach pie, a rice casserole and fruit, I noticed ants scurrying around the table and across a sign that said, "We have ants. Many, many ants. We don't kill ants, but let's not feed them. Please leave food covered and sealed."
At the table, I sat beside a man named Michael who was staying for a month. He had spent the past year driving across the country -- from California to Oregon to Arizona to Texas to Arkansas to Bloomington.
"I just follow the synchronicities and live in the moment," Michael said.
After lunch I headed out on the center's several miles of walking trails that take you up gentle inclines and get that clean Indiana air into your lungs. Across the fallen leaves, I soon ran into a man named Charlie, up from Kentucky for a month, as he strolled with his black Labrador-Rottweiler, Lily. He grew up that Southern rarity of Baptist and Catholic before turning to Buddhism 10 years ago.
"It's funny," he said, while I tossed sticks for Lily. "The more I study Buddhism, the closer I feel to Jesus."
He and Michael had weeks left there, but I was gone the next morning. You can be sure I remembered to remove my shoes at checkout.
IF YOU GO
GETTING THERE: The Tibetan Mongolian Buddhist Cultural Center, 3655 S. Snoddy Road, (812) 336-6807, tmbcc.net, is on the south edge of Bloomington, about five miles from Indiana University.
EAT: The yurts have kitchens, microwaves included, so bring food. If you'd prefer to eat well in town, try FARMbloomington, 100 E. Kirkwood Ave., (812) 323-0002, farm-bloom ington.com, or Roots on the Square, 124 N. Walnut St., (812) 336-7668, for well-prepared Indiana-grown and -raised food with vegetarian options. There's also Snow Lion, 113 S. Grant St., (812) 336-0835, a Tibetan restaurant started by the Dalai Lama's brother, which gets mixed reviews from locals.
STAY: Yurts at the Tibetan Mongolian Buddhist Cultural Center are available for $65 per night, $375 per week or $650 per month. Cabins book early in the fall. It also would be a fine alternative to the in-town hotels when traveling to Bloomington for an Indiana University football or basketball game.