Tibetans celebrate temple
By Pat Schneider, The Capital Times, April 23, 2005
Ground is broken for new holy place
TOWN OF DUNN, Wisconsin (USA) -- Dane County's Tibetan community gathered with friends Friday to break ground for a new temple at Deer Park Buddhist Center that is viewed as a holy place for the heart and mind.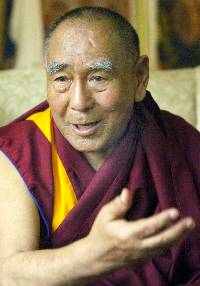 << Geshe Lhundub Sopa
Geshe Lhundub Sopa, abbot at Deer Park, joked with the crowd about spring weather almost as chilly as Tibet's and said the 19,000-square-foot temple is needed for the Tibetans who have resettled in Wisconsin and "also the many people here interested in Tibetan Buddhism."
"This temple is not for me, or the present group. It will continue for many years to benefit others," said Sopa, a professor emeritus at University of Wisconsin-Madison.
The traditionally styled stone temple, which may cost as much as $3 million to build, will be decorated inside by Tibetan artisans due to arrive this summer at Deer Park, a monastery and internationally known center of learning.
The Dalai Lama, the Nobel-winning head of state and spiritual leader of the Tibetan people, is scheduled to bless the completed temple in September 2006 in what would be his sixth visit to the Madison area.
Advertisement:
Sopa fled the Chinese occupying his homeland in 1959 and was sent to the United States a few years later by the Dalai Lama.
When he came to Madison in 1967 to teach at the University of Wisconsin-Madison, Sopa said, Tibetan Buddhism was practiced among some Asian-American ethnic groups, but was not generally well known.
"Now there are centers in many cities," Sopa said in an interview this week. "I am happy it is developing so much in this country."
Buddhism focuses on personal growth, Sopa said.
"Buddhism teaches that all beings have the potential to purify themselves and be perfect beings.
"The teaching is deep and profound and very logical also," Sopa said of Buddhism's attraction for Americans. "Westerners have a scientific mind."
Perhaps no phenomenon is more suggestive about Buddhist influence in the United States than the proliferation of yoga classes in recent years, but Sopa said that it is not very significant.
As practiced in the United States, yoga is a beneficial physical regimen, he said, but rarely involves the mental discipline that is at the heart of Tibetan Buddhism.
As for himself, the octogenarian Sopa said he often uses a treadmill for exercise and, when weather permits, walks around the 13-acre grounds of the center.
Sopa in 1979 founded the community, which has since built a good relationship with its neighbors.
"They have been very harmonious to us," Sopa said.
Visitors frequent the site, including bus-loads of schoolchildren of all ages.
Ed Minihan, chairman of the town of Dunn, took the stage Friday to help "break of bit of earth for a place of learning, contemplation and community."
He said visitors to Dunn are "absolutely infatuated" when they learn the rural town is home to a Buddhist temple. Sopa and his community are often called upon to greet guests and produce "chai and cookies in 15 minutes," Minihan said.
"I am very proud this community is here," he said.
UW-Madison professor Joe Elder, a member of the Greater Madison Interreligious Association and Peace Council, spoke about how Tibetan Buddhism 40 years ago was mistakenly dismissed by some historians as a "fossilized relic.'
A small wooden temple on the grounds now used for prayer and teaching was originally part of an open pavilion built in 1981, when the Dalai Lama visited Deer Park to perform an important initiation rite for the first time in the West.
That temple - considered sacred - will be preserved and put to other uses.
Translating traditional Tibetan architecture, and Sopa's vision, into western design and construction has been a challenging process, said Eric Vogel, designer of the new temple.
The temple will include a worship space adequate for the community, a library and an archive for sacred texts, and, eventually, a community room.
Besides short speeches from some of those involved in the temple project, Friday's ceremony included traditional dancing by young people.
Sopa at one point was joined on a makeshift stage on the temple site by several monks who chanted in Tibetan a prayer that concluded:
"May it be auspicious for the teaching of the Buddha to spread in the 10 directions until the end of cyclic existence."