Buddhist monks here on Sacred Tibetan Arts Tour made stir on social media
By Leah Thorsen, STLT-Today, August 22, 2014
St. Louis, LA (USA) -- Tibetan monks standing with protesters in Ferguson caused quite a stir on social media, but the Michael Brown shooting didn't bring them to this part of the world — their visit to St. Louis was part of a long-planned stop on a national tour.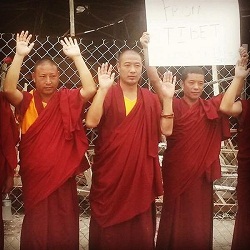 Photos of the Buddhist monks in Ferguson, some showing them joining protesters in the frequently seen "hands up" gesture outside the fire-gutted QuikTrip, made their way around Twitter and Instagram.
"We prayed for peace and nonviolence," Geshe Tsewang Thinley said of the reason they went to Ferguson.
The six monks are exiled from their native Tibet by Chinese rule and live in India at the Drepung Gomang Monastery. They are touring the United States on the Sacred Tibetan Arts Tour.
On Friday, they sat on the floor at the Healing Arts Center in Warson Woods finishing a sand mandala, an intricate design made using funnels to painstakingly place colored sand on a wooden board.
The bright hues of the mandala showed the world at the center of the circular pattern, with a dove representing peace. It also depicted symbols of world religions, as well as fire, water and mountains.
The monks spent roughly 25 hours over three days working on the mandala, hunched over as they carefully plotted the sand, their mouths and noses covered by masks.But the beauty of their work won't last - mandalas are made to be destroyed as a symbol of the Buddhist belief of the transitory nature of material life.
The monks are slated to be at the Festival of Nations in Tower Grove Park this weekend, where they'll lead a parade, teach sculpture to children using Play Doh and perform on the main stage.
They'll also be at the Royale bar and restaurant at 3132 South Kingshighway in St. Louis for a meet-and-greet from 5:30 to 6:30 p.m. Monday, after which they'll lead a chant and stay for dinner.
The monks will be at St. Louis University's Center for Global Citizenship on Wednesday, Thursday and Friday making another mandala. Then, they'll head to Kansas City.