Buddhist center and gallery welcome monks
By Sanya Ali, IDS News, Aug 24, 2015
Indiana, USA -- The Labrang Tashi Kyil Monks of Dehra Dun, India, have a long history of practicing Buddhism and spreading cultural awareness wherever they visit.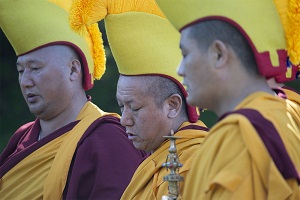 The monks have made three trips to the United States in recent years. Their most recent tour, which began at the end of July, will include a stop at the Venue Fine Art & Gifts.
The Venue has become partners with the Tibetan Mongolian Buddhist Cultural Center to introduce these monks for a look into their culture and practice. A free program will take place at 5:30 p.m. today at the gallery.
Dave Colman, curator of the Venue, said its Tuesday events are often designed to get people comfortable with the gallery and show them an aspect of culture they might not have been familiar with before.
"Our goal in booking the Tuesday eve events is to host presentations that are topical, interesting, educational and entertaining; the Tibetan Monks score well on all points," Colman said in an email.
Mary Pattison, board member and secretary to President Arjia Rinpoche of the TMBCC, said the goal of the program is twofold.
"(Arjia Rinpoche) has invited some monks from a refugee monastery to come to the U.S. and give a tour," Pattison said. "The purpose is to spread a message of wisdom and compassion, which is in line with the Buddhist philosophy, and also to generate funds for their monastery."
Pattison said the monks, some of them refugees, founded the monastery after Chinese communists destroyed their original center in Tibet in 1967.
Today, the monastery has a total of about 120 monks, some of whom came directly from Tibet and others who are second-generation children of refugees.
The monastery today accepts children from the outlying Himalayan areas whose parents want them to have higher education they might not have the means to provide themselves, Pattison said.
"Some of them are very poor, some undernourished, some quite sick," Pattison said. "They take care of them and they establish them as novice monks at the monastery."
The event, Pattison said, will feature a few artistic elements: dance, ritual and food, as well as a possible presentation on Tibet.
"They're going to offer some Tibetan momos, snacks for people to eat, they're going to do a native dance to show a little about Tibetan culture and they're going to have some other merchandise on sale that has been made by Tibetan monks in India," Pattison said.
Items for sale include handmade scarves and handicrafts. All proceeds from the merchandise sold will go back to the monastery.
Fundraising is one of the main revenue sources for the center in India as they actively try to ensure the children they take in receive proper care and education.
The Venue provides a forum for open communication and questions, as well as a stage to celebrate the artistic aspects of Buddhist life, Pattison said.
"With Buddhism, all of their art is interwoven with the culture," Pattison said. "Every time they show something about the culture, it's going to be interwoven with Buddhism. The dance, for example, is usually done to welcome the Dalai Lama into a ?monastery."
Pattison said the positive effects of attendance ?are many.
"(Attendees) get a little taste of a different culture, they get a chance to mingle with some refugee monks, maybe they will also give donations to help support these little children that the monks take care of," ?Pattison said.
Colman said he hopes the monks will bring in a large audience, which will both raise much-needed funds for their monastery and bring traffic to the gallery.
The monks will be at the TMBCC through the end of the month. Pattison said she encourages anyone interested to set up an appointment and visit for divination or to greet the monks.
"Giving them the opportunity to sell their art allows them to raise funds for their monastery, and their food offerings just taste good," Colman said. "Hopefully they will bring a crowd that will incidentally get a close-up view of the Venue."