Reclusive Heinz heir's Buddhist school to close
by Kathy Boccella, Philly.com, November 14, 2015
Philadelphia, Penn. (USA) -- In 1997, a reclusive heir to the billionaire fortune of his late father showed up in rural Bucks County with an offbeat idea - using Buddhist practices such as mindfulness and martial arts to reach at-risk youths failed by conventional schools.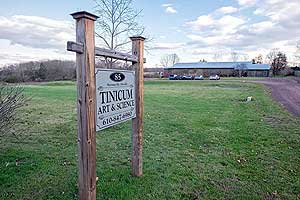 << Tinicum Art and Science, off a rural road in Ottsville, Bucks County, has been transforming the lives of at-risk youths for 18 years, following the vision of H. John Heinz IV. ED HILLE / Staff Photographer
For 18 years, H. John Heinz IV, the oldest son of the late Pennsylvania senator, funded the school now known as Tinicum Art and Science on a rustic campus off a country road in Ottsville. Parents say the school - the only one its kind in the East - transformed their once-lost youngsters with its warm and caring teachers, small, inclusive community, and serene atmosphere.
"When he started at Tinicum, the world just opened back up for him," said Ilene Young, whose son has Asperger's syndrome and is now in college after graduating from Tinicum three years ago.
That's why parents were stunned to learn in September that the private school with just 28 students will be closing at the end of the school year after Heinz announced he was pulling his financial support.
Amid their surprise, the Tinicum boosters also learned a belated lesson about the risks of having the fate of their beloved school almost completely in the hands of an iconoclastic multimillionaire evidently more at home forging medieval armor in his blacksmithing shop than in a boardroom.
Now Tinicum leaders and parents are scrambling to keep the school's mission alive with hopes of a new school, with a new name and a broader purpose.
Heinz, 48, whose father was killed in the 1991 crash of a helicopter and plane over Merion Elementary School in Lower Merion Township, did not respond to interview requests.
"We've only heard, 'Keep the school open,' " said Penny Ettinger of Newtown, whose 19-year-old daughter, now attending Delaware Valley University, told her Tinicum had "turned my life around" and urged her to fight to keep her alma mater alive in some capacity.
Ettinger is working with a committee of parents, administrators, teachers, and a student representative to develop a business plan that would rely more on foundation grants and referrals from public schools than on one deep-pocketed donor.
Accompanied by virtually no publicity or fanfare, the announcement of the impending death of the only Buddhism-based high school on the East Coast mirrored its life. Principal Peter Ryan granted a brief phone interview, but school officials said they would not allow a reporter to visit.
That may reflect the secretive nature of Heinz, who never has agreed to a interview and has avoided the limelight save for a flurry of articles in 2004 when his stepfather, now-Secretary of State John Kerry, was the Democratic nominee for president.
According to those articles, the heir to the Pittsburgh-based family's ketchup fortune had shunned any conventional career to indulge his unusual passions. These included blacksmithing, using medieval techniques to forge swords, battle helmets, and other objects, often while wearing a workmen's kilt known as a "utilikilt." Heinz was also said to be taken with reenactments of Native American battles, as well as Zen Buddhist spirituality.
He is a devoted practitioner of Shim Gum Do, the Korean martial art and spiritual practice, which is taught at the school.
The Boston College alumnus lives on an 138-acre estate in Upper Black Eddy near the Delaware River, reportedly with his nutritionist wife and daughter. The GPS-thwarting location is remote and pristine, with a cluster of farm buildings and an elegant stone house set at the end of a narrow, winding road that cuts through sumptuous woodlands.
Along with a couple of college classmates - Ryan and assistant principal Stephanie Kenney - Heinz launched the small school that was initially known as the Tinicum Xin Jian Dao Residency. At first, according to a letter on the school's website, the project consisted of an experimental four-bed farmhouse residence for at-risk youths who would practice mindfulness, martial arts, and better nutrition. The school was to last 10 years.
Instead, it lasted beyond its expectancy, adjusted, and expanded its focus. It changed its name to Tinicum Art and Science in 2000 and bolstered its liberal arts curriculum; moved to its current low, green building by a meadow in 2002; and became a day school. For at least a time, Heinz was listed as the headmaster.
Full tuition is $28,000 a year, although most students receive financial aid. Operating costs run about $1 million a year, and Heinz funded whatever wasn't covered by tuition and other donations. In the three school years ending with 2013-14, the most recent for which tax returns were available, the school's annual budgets ranged from about $850,000 to $940,000, with Heinz putting up more than half of the money.
The nonaccredited school is registered as religious affiliated by the Department of Education. One of the issues arising now will be securing grants from foundations that do not fund faith-based schools, Ryan said.
While he believes Tinicum was ahead of its time in focusing on Buddhist practices such as mindfulness, "we weren't quite so visionary about governance," he admitted.
Today, students are a mix of "gifted artists, intellectuals, writers, math kids who were moldering in a corner somewhere," and others with moderate to severe difficulties, such as dyslexia and autism, Ryan said. "A marvelous group of kids."
They participate in daily meditation sessions, tend the community garden, train in the martial-arts dojo, eat lunch together, take classes, and end the day with a gratefulness practice.
He wouldn't say much about the school's main benefactor or why he was leaving, except that he "wanted to move on. Everybody's got lives."
Supporters vow that the new school will be more ambitious, with more students and a mix of funding sources, but would aim for the same sense of serenity.
"If you go and visit the place, something comes over you - they have created this feeling of calm and peace," Young said. "It's wonderful. You don't want to leave."
No one is quite sure what the post-Heinz school will look like, but supporters are determined that at the very least, more people will know it exists.
Heinz, whose direct involvement in Tinicum is said to have shrunk in recent years, did attend a packed meeting on the closure this fall. Parents told him how grateful they were for his support throughout the years.
For many, it was the first time they had ever seen him.