Buddhist group meditates on being in Athens
by Conor Morris, The Athens News, Jan 17, 2016
Athens, Ohio (USA) -- Every Sunday, a small group of local residents and visitors gather in a building at 37 Ohio Street in Athens to meditate and study Tibetan Buddhism.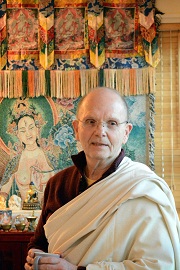 The meditation center, called Athens KTC, is likely the only such center for Tibetan Buddhist worship in Athens, although anybody can come to the weekly meditation, tea time and Buddhist literature/practice study session.
Three Sundays a month, the center features talks and guidance from Lama (a Buddhist teacher) Tom Broadwater of Zanesville, a former director of Children Services in Guernsey County. The group also receives guidance from Lama Kathy Wesley, a resident teacher of a similar KTC Buddhist group (and other groups) in Columbus.
Sue Erlewine, a meditation instructor with Athens KTC, in an interview on Jan. 5 explained how the Athens worship group started with meditation sessions in her living room about 10 years ago. She spoke to this reporter from a shrine – filled with colorful tapestries and tangkas, or illustrations of Buddhist deities or states of mind – that she and her husband created in their home on Maplewood Drive.
Now, the Athens KTC group draws roughly 15 to 30 visitors each Sunday at the group's meditation center (a practice which started about eight years ago).
Erlewine's husband, Tom, the director of Athens KTC, said that 26 people came to the session last Sunday (Jan. 10), including two toddlers. He put the overall number of regular attendees at around 75 people who visit the Sunday service off and on, and guessed that over a 10-plus year period, around three times that amount of people may have been involved with Athens KTC.
Broadwater was careful to note that anybody can come to the free sessions; no interest in Buddhism is really necessary, he said, as the first hour of the Sunday session is focused on meditation exercises (mostly, focusing on breathing and control of one's mind).
Sue Erlewine noted that Athens KTC founding members helped start a similar student-focused Buddhist study group at Ohio University a few years ago.
"There are a lot of people who come and then get what they need (through the meditation session) and go on… and they don't come back," Broadwater said. "That's perfectly OK. People are in some sort of spiritual crisis, they come and get something from the meditation or from the teachings, and go about their lives."
Broadwater explained that the Karma Kagyu, or "whispered" lineage – which the Athens KTC studies and teaches about – is one of the major traditions, or sects, of Tibetan Buddhism.
The Kagyu teacher who Broadwater and the Athens KTC receive guidance from is a 92-year-old monk named Khenpo Karthar Rinpoche. Born in 1924, Rinpoche is one of few monks remaining who were schooled in Tibet before the Communist Chinese takeover in the 1950-1960 time period. Rinpoche fled violence springing from Chinese incursion in Tibet in 1958, Broadwater said, eventually settling in the U.S.
Rinpoche is now the abbot of Karma Triyana Dharmachakra, a monastery in Woodstock, New York. It's considered the North American seat of Orgyen Trinley Dorje, the 17th Gyalwa Karmapa. The Karmapa is the Karma Kagyu lineage's spiritual leader, a position fairly similar to the "Dalai Lama" (the Dalai Lama is considered the spiritual leader of a different, newer school of Tibetan Buddhism).
Rinpoche has visited Athens three or four times. Despite his age, Broadwater said Rinpoche shows no sign of slowing down in his teaching and traveling.
"I went with him this summer to Tibet and at 16,000 feet he had no problem," Broadwater said of Rinpoche. "Can you imagine? There were people on the bus that were really sick (because of the altitude) but he never got sick. And he's going back to India in February."
At the Erlewines' house, Broadwater fit the role of a Buddhist teacher as he discussed some of his life. He wore a white robe which he said denotes his status as a "lay" teacher, rather than the red robe of a Buddhist "monastic monk" (who study and teach out of a temple).
Broadwater, unlike many Buddhist lamas, started his studies late in life; he said he decided to become a lama after a "mid-life crisis" that involved him seeking religion or spirituality. Then he saw Rinpoche talk in Columbus, and later decided to go on a three-year-long retreat in solitude with Rinpoche in New York. Broadwater acknowledged that it was difficult.
"There's some austerity involved," Broadwater said. "…Whatever you carry with you in terms of baggage or things, you have to (make do with)."
Broadwater said he's probably only one of 50 lay or monastic Buddhist lamas in the entire U.S. who have gone on the 3-year retreat with Rinpoche; total, he guessed there are 500 or more lamas in the U.S. Broadwater says he regularly teaches in Athens, Columbus and Chillicothe. Broadwater also said he has worked with inmates on death row before.
"...A (KTC) member from the Columbus Center and I go to the Chillicothe prison," he said. "We work on a volunteer basis with two groups. One group is in the general population and another on death row. What I have learned from working there is that we all are more than the worst act we have committed, and that people can change and redeem themselves even under the difficult circumstance of imprisonment."
Broadwater said Columbus has a significant amount of Buddhist groups meeting regularly, at least "two dozen."
Sue Erlewine said it's unusual for a town of Athens' size to have a teacher like Broadwater coming to visit regularly.
STEPHEN Kropf, another meditation instructor with Athens KTC, said there's an "odd tension" when it comes to the group wanting to spread its message in Athens to those who may be interested in Buddhist teachings.
"We don't advertise but we're not secret either," Kropf said. "We don't sort of go out and grab people off the street… but we are a welcoming group."
Kropf and his wife, Kathy, both said that learning about Buddhism and taking refuge has had a big impact on their day-to-day lives, especially in terms of being able to control and calm one's own mind.
"…We were just driving here on the highway and were getting cut off by this woman merging who was completely oblivious, and you… immediately get all revved up, and that's not good for you… So that's the kind of day-to-day thing, not getting frustrated at the check-out line in Kroger, that sort of thing," Kathy Kropf said.