Departing Buddhists to leave 'big void' in area
By George Jaksa, The Flint Journal, July 16, 2005
FLINT, Illinois (USA) -- Area Buddhists will lose a strong advocate and a local haven this fall when Ken and Visakha Kawasaki pull up stakes and move to Sri Lanka.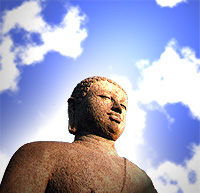 "It's time to go," said Visakha Kawasaki, 61, a 1961 graduate of Kearsley High School. "It's good to try something new."
The Kawasakis will be editors and proofreaders for the Buddhist Publication Society in Kandy, Sri Lanka, a nation off the southeast tip of India. They also will teach English to Buddhist monks and develop materials for an English textbook they have been writing while in Flint.
"They will leave a big void," said the Rev. Jean Munro, a chaplain at Hurley Medical Center.
"They were involved in many things and with many groups," said Munro, who went on missions to Asia with the Kawasakis, including nearly a month last year in at the Thailand-Burmese border (now known as Myanmar) as the Kawasakis supported the Burmese Relief Center and worked with groups in education and health care.
Munro said she met the Kawasakis when she gathered an interfaith group at Hurley after the Sept. 11, 2001, terrorist attacks.
Beverly Duval of Swartz Creek, a member of Life Enrichment Center in Flint Township, meditates with the Kawasakis at their Woodlawn Park Drive home each Friday evening.
"They have changed my life," she said. "They introduced me to Buddhism, the monks and the pindapata."
"Pindapata" is an ancient Buddhist custom where monks walk the streets seeking food for their daily meal. They will enact it Aug. 6 in the Flint college and cultural neighborhood.
The Kawasakis have been deeply involved with human rights issues. They join a group each Sunday at Ballenger Highway and Miller Road for anti-war demonstrations. They also are involved with the Greater Flint Interfaith Council.
The Kawasakis returned to Flint in 1999 from Japan, where they had lived for 30 years teaching English most of the time.
While here, the Kawasakis established a Buddhist Relief Mission and the Burmese Relief Center. Their home served as a meditation center for area Buddhists, who up to that time had no place to gather in the Flint area.
They also hosted traveling Buddhist monks and other Buddhists, as well as leading a Buddhist study group at their home and conducting other Buddhist ceremonies.
Although the Kawasakis will sell their spacious home, they said area Buddhists will not be without places to meditate. There are at least 20 sites in Michigan, including houses in Perry, Detroit, Southfield and Warren.
Ken Kawasaki, 59, said the couple has no plans beyond the Sri Lanka position but wouldn't rule out returning to the Flint area.
"We're not closing any doors," he said.