Buddhist colony runs into conflict
By SHEILA B. LALWANI, Journalsentinel.com, Aug. 10, 2005
Residents say Caledonia site is a bad fit for proposal
Caledonia, Milwaukee (USA) -- Followers of Buddhism tend to avoid conflicts and clashes, but a Milwaukee group that wants to build a Buddhist colony in rural Caledonia in Racine County may not have a choice.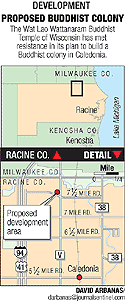 Shortly after the Wat Lao Wattanaram Buddhist Temple of Wisconsin submitted applications for the building and zoning of a Buddhist colony in Caledonia, some area residents started pooling their resources to halt the possible construction on 13 acres that would include a temple, meditation building, fellowship hall, Buddha building and nun facility.
Some residents contend that Caledonia needs a larger tax base and is an odd choice for a Buddhist temple, but supporters argue that larger factors - mainly discrimination - are at work.
"Why did they pick Caledonia?" resident Holly Due said. "Does Caledonia have a huge Buddhist community? I don't see it."
Residents near the proposed development have been meeting informally and have filed letters of concern with the Racine County Economic & Land Use Planning Committee.
"I don't feel this is a good use of that high-valued property to allow them to expand anymore, and neither do the neighbors," Caledonia resident Joyce Brainard said in an e-mail to the county concerning the possible project.
Planners had designated the land near Highway V and 7 1/2 Mile Road for a conservation subdivision of single-family homes, which residents say would have contributed to the town's tax base. The area is largely rural, offers easy access to I-94 and borders Milwaukee County.
The Buddhists who would use the temple are mainly immigrants from Laos or first-generation Laotian-Americans and live in southern Milwaukee County. They say the land is ideal because of its location. Followers want more land for a cultural center, school and burial site.
"We have no land for the Lao culture and Buddhist activity," said Buddhist monk Chanpheng Chandarasouk of Milwaukee. "We have to have more space."
Kham Luang, who is spearheading the project, wants young Buddhists to have a place to learn about their ancestry and religion.
"We want kids to know where their parents came from," Luang said.
Religious law in play
Experts say there may be little residents can do to stop the construction of the colony.
Religious groups can use a federal law, called the Religious Land Use and Institutionalized Persons Act, that helps groups win disputes over the location, size and design of churches, mosques, synagogues and temples.
The law prohibits any zoning that substantially burdens religious exercise unless the government can show a compelling interest for such limits. The law also prohibits any zoning that discriminates against, excludes or unreasonably limits religious land use.
Faith groups in Wisconsin have used the law to construct buildings and places of worship. For example, the Faith Community Church threatened to sue under the new law after it was rejected from building a meeting house and fellowship hall in Franklin. The church eventually received the approval to begin construction.
SS Constantine and Helen Greek Orthodox Church and New Berlin also are in a dispute that involves the religious land-use law. The church is attempting to build a multimillion-dollar facility on 40 acres.
But in the city of Pewaukee, in Waukesha County, neighbors welcomed the state's first Hindu temple.
Tom S. Lyons, director of the Department of Urban & Public Affairs at the University of Louisville and a land use expert, said communities that want to block religious institutions must argue that such construction is inconsistent with the development plans.
"Any community considering somebody's petition - whether it's religious or political - has to make that denial understanding what the laws are and what the court's recent interpretation of the law is," Lyons said.
Some people think that discriminatory attitudes may be driving residents.
History of Buddhism
Buddhism was founded in present-day Nepal during the 6th century. Buddhists believe that the spiritual fulfillment lives in rejecting the attachment to the self and material worldly goods. Buddhism is one of the largest religions in the world, with about 3 million living in the United States. Roughly 1,500 to 2,000 live in the Milwaukee area. Buddhist temples are sprinkled throughout Wisconsin.
"A great deal of it has to do with not knowing," said the Rev. Tonen O'Connor of the Milwaukee Zen Center. "Buddhism is not very well understood by a great many Christians."
Robert Mason, associate professor of Geographic & Urban Studies at Temple University in Philadelphia, said communities often rally against building of religious institutions. He also said a conservation subdivision is tough to assemble.
"A Caucasian community and a Buddhist temple . . . there could be additional issues there," Mason said.
Racine County officials are expected next week to discuss the proposal to build the temple.