Jewel Heart raises funds
By Chris Oposnow, Echo Online, OCTOBER 14, 2005
Tibetan Buddhist center to put on first benefit show in five years in Ann Arbor
Ann Arbor, Michigan -- Gehlek Rimpoche gives a service at Jewel Heart Center to approximately 75 people. The center will be having a benefit concert at 7:30 p.m. on Wednesday, Nov. 9 at the Michigan Theatre in Ann Arbor.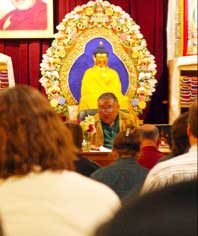 << Gehlek Rimpoche gives a service at Jewel Heart Center to approximately 75 people. The center will be having a benefit concert at 7:30 p.m. on Wednesday, Nov. 9 at the Michigan Theatre in Ann Arbor.
Today the Jewel Heart Center is located in a three story building on East Washington Street in Ann Arbor with a membership over 500, and thousands of participants ever year. When it first started in the 80's it used to be a little group of people that met above a garage.
The Jewel Heart Center is prosperous because of the emotional and ideological support of its members and the community. It has also had the financial support it gains from a benefit show that was started by Allen Ginsburg and Philip Glass.
Today the Jewel Heart Center showcases cultural activities that promote Buddhist philosophies. According to www.jewelheart.org, they also participate in humanitarian activities such as the Tibet Development Fund that provides lunch each day to the 50 students in a school for orphans and the physically challenged in Jatson Chumik, Lhasa, Tibet.
On Nov. 9 Jewel Heart Center will be putting on its first benefit show in five years at the Michigan Theater in Ann Arbor.
The performers for this momentous show include Califone, Shawn Colvin, Jimmie Dale Gilmore, Philip Glass, Daniel Roumain and the Paybacks.
Glass said the show tries to appeal to everybody, because Buddhism appeals to everyone.
Califone came from the ashes of Chicago blues rock innovators Red Red Meat. Since 1998 Califone have been mixing early American folk and blues with off-kilter electronic sounds.
Shawn Colvin is one of the bright spots of the "new folk movement" that began in the late '80s. The three-time Grammy winner has released seven albums to date, including the platinum record "A Few Small Repairs."
Jimmie Dale Gilmore"s music is a rich blend of traditional country, folk, blues, and rock styles. He is best known as a founding member of the now-legendary band The Flatlanders
Philip Glass was among one of the most innovative and influential composers of the 20th century. Glass is also acclaimed for his scores for "The Hours", "The Fog of War" and "Kundun."
Dan Roumain is a multi-instrumentalist and composer based in New York. His music was performed by the American Composers" Orchestra at Carnegie Hall, and by other groups at the Holland Dance Festival, Teatrico Olimpico in Rome, and Zellerbach Hall in Los Angeles.
The Paybacks are verge of mainstream success. With growing popularity, the Paybacks have no where to go but up. Past and present members have played in a number of legendary Detroit garage bands such as the Henchmen, Rocket 455 and Ten High. They were also included on Sympathy For The Record Industry"s compilation Sympathetic Sounds of Detroit released in 2001. This compilation also featured famed Detroiters The White Stripes.
Glass said the Jewel Heart Benefit shows have always been eclectic. Past performers include Jim Carrol, Patti Smith, Allen Ginsburg, Ziggy Marley and Michael Stipes.
"I round up the artists but Debbie [Burr] is a very important part of organizing the practical part," Glass said.
"Phillip Glass was looking for a rock act to round out this bill and he got in touch with us," said Wendy Case, lead singer and guitarist of the Paybacks.
"It is privilege to be able to play with these folks," Case said about being asked to perform at the benefit show.
"The people who have been associated with Jewel Heart over the years have been a respectable roster," Case said. "We"re please to be added to it."
"We live in a very stressful time. There is very little help from the organizations that are supposed to be helping us," said Glass.
"This is a community effort to help support and maintain an organization that is important and valuable."
"I spend my time [doing benefit shows] because I have the opportunity to help. I consider myself vary fortunate to be able to do this," Glass said.
"I know a lot people that want to do something but they don"t know what to do," Glass said.
Glass said the artists are not practicing Buddhists but they all know Gehlek Rimpoche and they are interested in his work. Other than paying hotels and airlines everything else is donated. The performers are glad to volunteer their time.
"On a personal level I am interested in the things it promotes and the Eastern philosophies it teaches," Case said.
"It is a practical way of looking at life and there are training methods for helping people do that," Glass said.
"It is important to be aware of this kind of work in a time when there is so much stress and anxiety about ordinary life," Glass said.