Artwork of the spirit: Buddhist monk creates design as fragile as life
BY DAVID CRUMM, FREE PRESS RELIGION WRITER, April 13, 2006
College celebrates diverse cultures
Detroit, MI (USA) -- A monk in gold-and-crimson robes labored on his knees to bring to life an ancient symbol of wisdom in a Dearborn library on Wednesday, surrounded by an ever-changing crowd of students, some in Muslim scarves, others in Lions and Pistons sweatshirts and a couple in leather and chains.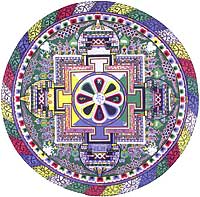 << A Mandala
"I am creating what we call a mandala of the Buddha of Wisdom," Thupten Tsondu Tashi, a Tibetan Buddhist monk, said as he began to form a circle of painstakingly arranged colored sand on the floor of the Henry Ford Community College library. Then, gesturing at students hovering nearby, he said the ultimate meaning of the mandala "depends on what each person who looks upon this sees. It can be a blessing for them."
William Secrest, director of religious studies at the college, is hosting Tashi through Tuesday as part of the school's effort to expose students to diverse cultures.
The school is perfectly poised for such lessons. Students park their cars within sight of powerful symbols of religious diversity: the domes and towers of churches and a mosque on Ford Road that peek over treetops near the Evergreen Road campus.
On Wednesday, a world map was set up at the school so students could mark their countries of origin. By afternoon, it had nearly as many pins stuck in other countries as in the United States.
Megan Gietzen, a student from Southgate, watched the monk for hours as he used pencils and rulers to mark the mandala's detailed pattern on a large piece of wood.
"I find Buddhist culture very fascinating, so I couldn't pass up this opportunity to watch him create this," she said. "I'd like to come every day until he's finished and I'd like to be here when he takes the sand to the river, too."
Tashi, 49, explained that a mandala is an ancient practice that combines meditation techniques and sacred symbols to create vibrant, circular works of art. The overall message is that life is precious as well as fleeting.
"I make the mandala, but then I dismantle it on the last day. I sweep it up with a brush," Tashi said. "It reminds us that, one day, we all will die. It reminds us to think of other living beings compassionately in this impermanent life we have."
At 5 p.m. Tuesday, in a ceremony open to the public, Tashi will complete the dismantling by placing the swept-up sand into a large bowl. Then, he will lead a procession from the library to the nearby Rouge River, where he will drizzle the sand into the water.
Secrest said, "The Buddhist message is that we cannot cling to this life. That's a delusion. Life is constantly flowing away like the sand in this mandala will flow into the river."
Among the students trying to capture a glimpse of the mandala was Ali Charara of Dearborn, who pulled out his cell phone and snapped a picture of Tashi at work.
"This is cool," Charara said. "I'm here every day, so I think I'll keep stopping by the library to see him work." Charara is especially busy in mid-April, because he's preparing for final exams.
Librarian Dan Harrison, who stopped by the mandala, said the entire student body is stressed this time of year.
"You can hear the edge in people's voices as we get closer to exams," Harrison said. "It's like our collective stress level is ramping up as we get to exams in the first week of May."
He watched the graceful flow of Tashi's hands, sketching a flower shape, then an intricate series of lines and tiny squares radiating outward.
"This couldn't have come at a better time," Harrison said. "We can use a quiet corner of tranquility on campus at this time of year."
----------------
What is it? The word means circle and is pronounced MAN-dah-lah. The point is to embody a spiritual experience fleetingly in a work of art. Mandalas show up in Buddhist, Hindu and American Indian traditions, among others.
Who designs them? Some are ancient designs, but modern artists are creating more. The design in Dearborn focuses on the theme of wisdom, appropriate for the site at Henry Ford Community College.
When can people visit? The college library on Evergreen Road, just south of Ford Road, opens at 7:30 a.m. weekdays. It closes at 9 p.m. today and Monday and at 4:30 p.m. Friday.
At 11 a.m. today, a 90-minute lecture in Room L-14 of the Walter Reuther Building on campus will explain the mandala. At 5 p.m. Tuesday, the ceremony of taking the sand to the river will be open to the public.
Where can I learn more? Go to www.gyudmedtashi.net or www.mandalaproject.org to learn more about Buddhism or mandalas.