Dalai Lama to meet with local Tibetans
BY STEVE SCOTT, Pioneer Press, APril 14, 2006
Sunday's visit will be his second to Cities
Rochester, Minn. (USA) -- There's less public fanfare this time around, but the Twin Cities Tibetan community is excited about Sunday's visit by the Dalai Lama to Minnesota, his second ever.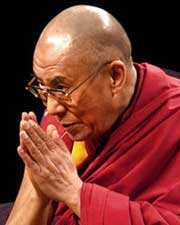 Five years after the religious and political leader of Tibetan Buddhism made several public appearances across the Twin Cities, he will meet for one hour Sunday afternoon with members of the local Tibetan community.
"Many Tibetans, whenever he visits the U.S., used to go to Washington or New York to attend those events,'' said Karma Wangchuk, director of the Tibetan American Foundation of Minnesota. "But now he's coming here. People are very, very happy to have him here and be with him for an hour.''
The Dalai Lama, the 1989 Nobel Peace Prize winner, also will speak Monday to patients and staffers at the Mayo Clinic in Rochester. His talk, "Compassion in the Face of Suffering,'' is by invitation but will be shown live on a Web cast at 12:30 p.m. at www.mayoclinic.org.
Sunday's talk, at 2:30 p.m. at the Minneapolis Convention Center, will be in Tibetan with no interpreter.
"Because of the tight schedule, he could only stay one hour, so we have earmarked that for the community,'' Wangchuk said.
Wangchuk said the Tibetan population in Minnesota is approaching 2,000, believed to be the second-largest Tibetan community in the United States behind New York.
During the 2001 visit of His Holiness, as he is known to Tibetan Buddhists, nearly $700,000 was raised at three public appearances and several private functions. The proceeds went toward establishing the Tibetan Community Cultural Center in St. Paul's St. Anthony Park neighborhood.
The center is home to the throne built for the Dalai Lama's first visit. It also is host to many religious and community events and classes in Tibetan, dance and music.
"With all these activities now coming into existence due to the kindness of his donating the proceeds of his last visit, the people here are very happy we have achieved the goal that we set during that time,'' Wangchuk said. "Now as a second visit, we are very happy that everything is going on smoothly. On the other hand, it has been almost five years, so everybody wants to see him as much as possible.''