Dalai Lama has message of learning
By Pamela Miller, Star Tribune, April 17, 2006
Minnesota Tibetans say the Dalai Lama called education the key to honor their past and to enhance a peaceful future
Minneapolis, Minn (USA) -- Every one of Minnesota's approximately 1,500 Tibetans, as well as hundreds of others from around the Midwest, turned out Sunday to hear the Dalai Lama speak at the Minneapolis Convention Center.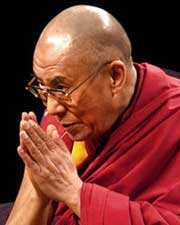 Or so it appeared. White prayer scarves -- the khatha -- fluttered in the warm wind as families in radiant traditional garb, including the chupa, the traditional Tibetan jumper -- poured into the center. A sea of faces tilted upward in rapt attention as the 70-year-old Dalai Lama, clad in a wine-red robe and leaning toward them from a platform awash in flowers, spoke -- entirely in their native language.
No one, it appeared, had any problem with that, except for a few American-born Buddhists and a hapless reporter or two.
Luckily for them, kindness is a cultural marker of the Tibetan community, and many patient translators volunteered that the Dalai Lama had two themes: education and peace.
"He talked about the true meaning of Buddhism, about not just keeping it to ourselves inside, but sharing it, so people will know us and our culture," said Karma Kunsang Sonam, 17, of St. Paul.
And what about that bit near the end when, after 45 solemn, unsmiling minutes, His Holiness suddenly made everyone laugh uproariously?
"Ah! He said that the next time he sees us, he will quiz us on what he said and how we are doing with it," Sonam said.
More official types, such as Phuntsok Wangdu, executive director of the Tibetan American Foundation of Minnesota, and Charles Lenz, who presented the Dalai Lama with a Minnesota Historical Society oral narrative study of the state's Tibetan immigrants, confirmed Sonam's account.
The Dalai Lama urged the Minnesotans, the second-largest Tibetan community in the United States (after one in New York), to pursue broad "modern education" as well as Buddhist studies, and "not just to pray, but to spread our faith and way of life through hard work," Wangdu said. "We are to cultivate education and good morals, and to share the peace that starts in our hearts."
Lenz said the Dalai Lama stressed the interdependency of humankind. On a more local level, he also praised the sophisticated Tibetan music and dance education programs in the Twin Cities area.
"He said that not all knowledge is in our heads," Lenz said.
Music and a message
After his speech, the Dalai Lama approached several people personally with small bows and his trademark radiant smile, including monks from Minneapolis' Gyuto Wheel of Dharma monastery and Tenzin Ngawang, head music teacher at the Tibetan American Foundation.
"His Holiness likes [Tibetan] opera very much" and complimented a piece sung earlier, Ngawang said.
Ngawang Tenzin, a monk from the Gyuto monastery, said the Dalai Lama urged the exile community to share knowledge about "our lost country": Tibet.
The 14th Dalai Lama, whose common name is Tenzin Gyatso, fled his homeland in 1959 because of Chinese occupation and repression. He now lives in a monk's cottage in the 120,000-strong Tibetan refugee community of Dharamsala, India.
Kalsang Toudon, 40, said she and her husband drove their two sons from Madison, Wis., home to about 400 Tibetans.
They came, she said, partly "to see how his health is" -- a sentiment expressed by many in the crowd, though the Dalai Lama appeared vigorous -- and partly, said her husband, Tenzin Sonam, "because he will always be our leader -- we dream of going back to Tibet someday."
To Wangdu, the Dalai Lama's visit to Minnesota was "the best gift a Tibetan could have -- more than Christmas, more than New Year's. He is like a mother to us, a constant spring of hope."
As with most of the Dalai Lama's appearances, this one was awash in good will. But of late he has spoken in edgier arenas that indicate he is well aware of global politics beyond those involving Tibet and China.
On Saturday, he met with Muslim leaders in San Francisco to talk about quelling extremism and advancing the views of moderate Muslims who view their faith as one of peace and tolerance. The confluence of those two faiths was, by all accounts, unusual.
Yet on Sunday, in the Convention Center's broad halls, Tibetan Buddhists mingled comfortably with Somali-Americans and other Muslims who were at the center for a Muslim-American Society of Minnesota gathering.
Today, the Dalai Lama, who last visited Minnesota in 2001, will speak to physicians and patients at the Mayo Clinic in Rochester about the relationship between Buddhist contemplative practices and the neurosciences.