Buddhist Monk Credits NBC TV Show in Helping Explain Ancient Law
By Ryan Cummings, 13 News, Sept 21, 2006
Rockford, IL (USA) -- The season premiere of NBC's "My Name is Earl" airs Thursday night. The sitcom revolves around karma, an ancient idea that many people live by.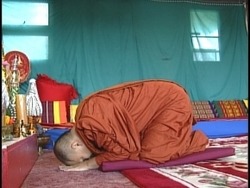 << Venerable Ashin Sudhamma says that NBC's sitcom "My Name is Earl" helps explain law of karma
Some call it fate. Others think it's destiny. Buddhists call it the "Law of Karma." High monk Ashin Sudhamma with the Ratanaram Buddhist Temple in Rockford believes in the natural order of karma, the ancient belief that all living creatures are responsible for their way of life. He says, "The doer of good receives good. The doer of evil receives evil. This is what the Buddha advises to the people. Helping other people is a good karma and giving things in charity, also a wholesome action is wholesome karma."
He also believes in bad karma. "Killing other people, harming others, stealing what is not given to you, having sexual misconduct, taking alcohol and narcotic drugs is called bad karma."
Whatever you call it, some people say it's there. Karma's a central focus for NBC's sitcom "My Name is Earl" and according to some, a central focus in life. Joshua Hawkins of Rockford says, "That goes around comes around, I mean if you do good, good things will happen to you If you do bad, bad things will come back on you." Justin Carner from Loves Park says, "I believe that on the earthly realm, there's things that happen and those things being consequences. Sometimes those are good, but sometimes those are bad." Clyda Lamb of Rochelle adds, "I know there's people out there that think karma has everything to do with it. I know it does, but it's not the main thing."
Believe it or not, Sudhamma says watching the sitcom actually help him understand karma even more. "By knowing that we can solve the problem to the people who come to the temple and ask how to solve their problem."
The show airs Thursdays on WREX-TV.