Dalai Lama to be in Madison in May
By Mary Bergin, The Capital Times, Feb 14, 2007
Madison, WI (USA) -- The Dalai Lama will be here May 2-5 to give a public talk at the Kohl Center, teach a four-session class at the Alliant Energy Center Coliseum and bless construction of a new temple at Deer Park Buddhist Center, near Oregon.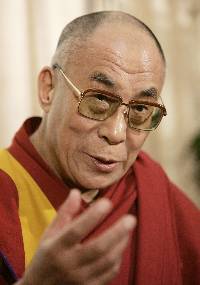 << Dalai Lama to be in Madison in May
These efforts also will raise money for the temple work, which began in 2005.
The spiritual leader for Tibetan Buddhism and the 1989 Nobel Peace Prize winner last spoke in Madison in 1998, before an audience of more than 12,000 at the Kohl Center. He also came here in May 2001 for a two-day academic conference on meditation research at UW-Madison.
Tickets for his speech will cost $25, although 4,000 free tickets will be distributed to UW-Madison students. There are also $200 to $1,000 per person sponsorships that allow access to more exclusive events, such as preferential seating and an invitation-only reception with the Dalai Lama.
Deer Park, a Tibetan Buddhist monastery at 4548 Schneider Road, wants to raise at least $6.1 million in building capital and set up a $10 million endowment fund. It has received $1.6 million in donations, and an additional $900,000 has been pledged.
Tickets to the Dalai Lama's 2:30 p.m. talk on May 4 at the Kohl Center will go on sale at 8:30 a.m. Feb. 27, through the Athletic Ticket Office (262-1440).
Admission to Teachings and Empowerment classes are $100 to $175 for all four sessions ($50 for ages 15 and younger). The classes will begin at 1:30 p.m. on May 2, 9:30 a.m. and 1:30 p.m. on May 3 and 9:30 a.m. on May 4 at the Coliseum.
Tickets are on sale at the Coliseum box office and through www.ticketmaster.com. Single-class tickets are not being sold. Group discounts are available with the purchase of 10 tickets.
The Dalai Lama is expected to return to Deer Park in July 2008, after temple construction is completed. The monastery's original temple is historically significant because it was the first Western world site where a kalachraka ceremony was performed by the spiritual leader.
For more about the events and Deer Park project: www.deerparkcenter.org.