Tibetans unveil chair fit for king
By Manya A. Brachear, Chicago Tribune, April 15, 2007
Chicago-area faithful say chair honors wisdom, leadership of visiting Dalai Lama
Chicago, USA -- Every time he prays, Tibetan carpenter Lobsang Yangphel envisions the Buddha radiating wisdom from a majestic throne. So when news spread that His Holiness the Dalai Lama would deliver his first spiritual message to Chicago in May, Yangphel's mission became clear: to build a throne for the holy man he considers a king.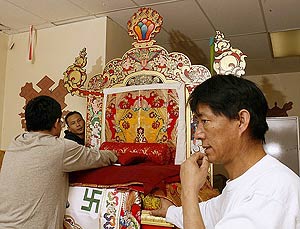 << (Left to right) Lobsang Gawa, Tsering Dorjee and master carpenter Lobsang Yangphel make last minute preparations for a throne that they and other Tibetan artists have built for the Dalai Lama April 11, 2007. (Tribune photo by Nuccio DiNuzzo)
"Whenever I see His Holiness I am filled with a sense of peace," Yangphel said. "Ever since we lost our country, because of his prestige and his compassion the Tibetans are allowed to go everywhere in the world and be recognized as human beings. Because we are refugees, when he talks he fills us with tremendous hope."
Every evening and weekend for the last month, dozens of Tibetan artists, carpenters, craftsmen and other volunteers have joined Yangphel in a secluded workshop to make a sacred chair -- assembling it out of pine, painting it in glorious hues and draping it in silk brocades. Giving the peaceful warrior a place to rest when he comes to Chicago on May 6 is the least they can do, they say.
On Saturday the artisans peeled away copper dressing, revealing the throne to Chicago's Tibetan Buddhist community. As the eight verses about which the Dalai Lama will teach were chanted, a former monk sprinkled consecrated water on the throne with a wand of peacock feathers, incense wafting through the air.
"His Holiness represents the essence of Tibet," said Namgyal Shallung, 30, a hotel worker who has volunteered every night to help build the throne. "It is an honor to do anything for him. It also keeps us in touch with our tradition."
The Dalai Lama has been sitting on thrones since he was 4 years old. Born Lhamo Thondup to peasants in northeastern Tibet, the 14th Dalai Lama was recognized in 1937 at age 2 as the anticipated reincarnation of his predecessor, the 13th Dalai Lama. Buddhists believe he is a manifestation of the Buddha of Compassion, who chose to return again and again to serve the people.
Whisked away to a Buddhist monastery as soon as he was discovered, the young Dalai Lama was enthroned in 1940. Ten years later, China invaded Tibet and in 1959, the Dalai Lama fled to India, where he has lived in exile since.
He has traveled the globe to stay connected with many of his devotees who also sought political asylum from their homeland and live as refugees around the world. This will be his fourth visit to Chicago. After the teaching session, he will deliver a public address in Millennium Park's Pritzker Pavilion.
The throne, which will be used only at Harris Theater, transforms his first address from a talk to a teaching. Lessons from a throne dates to early Tibetan cultural traditions, said Matthew Kapstein, a Tibetan Buddhist scholar at the University of Chicago Divinity School. It is not an expectation of the Dalai Lama, but an act of devotion by his followers, he said. Disciples build thrones as a sign of gratitude to both the teacher and the teaching.
"Quite remarkably for a person who spends so much time on a throne, one is immediately struck by how unpretentious and free from airs he is," said Kapstein, who has met the Dalai Lama on many occasions.
Before the Dalai Lama ascends, he will bow toward the throne in reverence for the teaching he is about to impart. He also recites a blessing: "May the merit of my explaining the dharma be for the benefit of all beings achieving Buddhahood."
Organizers will transform the rest of the stage into a sacred setting by adding other monastic accouterments. The throne will sit on a traditional Tibetan carpet. Suspended above it will be devotional paintings called thangka, which depict the Buddha in places of worship. A jewel-studded parasol and banner also will adorn the stage.
The throne itself is a masterpiece. Yangphel prescribed and adhered to precise measurements taken from thrones in other countries. Brocade upholstery was imported from India. Painter Soanam Tsering spent hours tracing intricate designs, gilding them in gold and gem tones.
"It is a rare opportunity to do anything for His Holiness in such a personal way," Tsering said. "To get this opportunity is a tremendous blessing."
But the throne has political significance as well. The Dalai Lama is not only the spiritual master but the political leader of the Tibetan government. He has emerged as a public face of the Tibetan struggle for autonomy.
"Once you don't have a country you struggle a lot," said Yeshe Gyaltsen, 35. "His Holiness is our king as well as our religious leader. While we believe he is very humble, he is trying to make world peace."
Once it has been occupied by the Dalai Lama, the throne will be considered blessed. It will remain on display at the Tibetan Buddhist Alliance. Devotees know not to sit on the chair, Yangphel said. It is only for looking, revering and remembering His Holiness until he returns.