Kathina Robe Offering Ceremony held at Indiana Buddhist temple
ColomboPage News, November 13, 2007
Fort Wayne, Indiana (USA) -- Indiana Buddhist Temple in Fort Wayne, Indiana held its annual Kathina Robe Offering Ceremony on November 3rd with the participation of about two hundred devotees. Among them were Sri Lankans, Indians, Burmese, Thai, Filipino, as well as the locals residents of the area.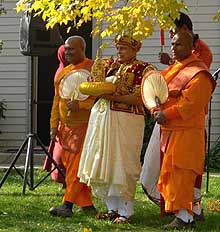 Twenty three venerable monks from Sri Lankan Buddhist temples in Cincinnati, Chicago, Detroit and Pittsburgh and Burmese and Laos temples graced the occasion together with the venerable monks who had come from Sri Lanka and the resident monks.
It was a pleasing sight when the Kathina Procession parading around the temple premises. Entire surrounding was decorated with Buddhist flags, streamers and buntings together with the flags of the United States and Sri Lanka.
An elegantly dressed horse led the procession filling the absence of a tusker. The Sacred Casket of Relics which was sent by Kotte Rajamaha Viharaya was carried with reverence, among the beating of the traditional drums.
The traditional sermon was preached by Ven. Brahmanagama Muditha Thero. The chief incumbent monk of the temple, Ven.Talangama Devananda Thero, and the resident monks, Ven. Bambarende Sumedha Thero and Neluwe Seelawimala Thero were pleased to see the devotees attending the ceremony even from faraway states of California and Washington.
Kathina ceremony was organized by Deepal and Udeshika Rodrego of Indianapolis, Indiana.
Indiana Buddhist Temple is a renowned place of worship among Buddhist and non Buddhist community in Indiana and the neighboring states. It is located in a quiet and peaceful countryside in Fort Wayne Indiana.