Jewel Heart buys site for $1.7M
by Greg Migliore, Ann Arbor Business Review, March 6, 2008
Ann Arbor, Michigan (USA) -- The Jewel Heart organization's purchase of a 12,600-square-foot office building in Pittsfield Township is setting up the group for the future with more room for classes and community programs.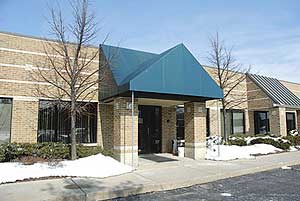 << The Jewel Heart building in Pittsfield Twp. Robert Ramey
Jewel Heart paid $1.74 million for the site at 1129 Oak Valley Dr. and moved in at the end of December. The building is the headquarters for the society's worldwide chapters and houses its six local workers.
The new site has classrooms, offices and about 2,200 square feet of space for large talks or services. The Buddhist group draws crowds as large as 75 for some of its programs, which are open to the public.
"It gives us usable space so we can do multiple classes and offerings to the community," said Debbie Burr, director of administration and operations for Jewel Heart.
The society's old facility in an historic structure at 207 E. Washington had about the same amount of space, but the interior was never completely remodeled, and it had just three parking spaces. Jewel Heart was there about 10 years.
The building was bought by developers Jon Carlson and Greg Lobdell, who are putting Blue Tractor BBQ and brewery in it. The property is next door to another of their ventures, Cafe Habana.
The move means Jewel Heart will no longer have a storefront for its books and carpets, but Burr said that had become unnecessary as more of its business was coming from special orders and online purchases.
The new building also has 67 parking spots and is easily accessible from the freeways. The society rezoned it to include public assembly uses.
Jewel Heart bought the site from local investors AMR Development LLC, and moved quickly to prepare for an April visit by the Dalai Lama. Volunteers spent more than 1,000 hours fixing up the building. It operates on a budget of $650,000 annually.
"We wanted to move and get settled really fast," Burr said.
The building was vacant for about two and a half years, said Bart Wise of Swisher Commercial, who brokered the deal. It was formerly home to a travel agency.
AMR bought the site for the three-acre piece of land next door. If market conditions improve, AMR is considering building on the site. It paid $1.46 million for the Jewel Heart building.
Wise said the building's location made it a bit of a bargain at $137.90 per square foot. He estimated if it was in another part of town, or even on the northern side of Interstate 94, it could have fetched $200 a square foot.