Buddhist teacher from Ann Arbor plans lecture tour with Toledo stop
By DAVID YONKE, TOLEDO BLADE, March 29, 2008
ANN ARBOR, Michigan (USA) -- Three weeks from today, His Holiness the Dalai Lama will draw thousands of people to Crisler Arena for lectures on wisdom and compassion.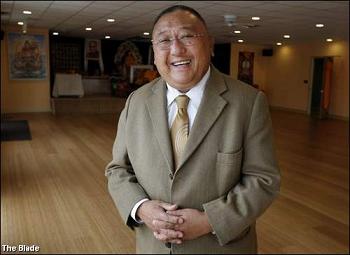 << Rimpoche Nawang Gelek of Jewel Heart in Ann Arbor invited the Dalai Lama to visit, and hopes to build on the momentum of his appearance with a series of lectures.
( THE BLADE/ANDY MORRISON )
Rimpoche Nawang Gelek, a Tibetan Buddhist teacher and author whose invitation brought the Dalai Lama to Ann Arbor, said he wants to do whatever he can to carry on the momentum generated by his high-profile guest.
"His Holiness excites so many people. He collects so many people. He inspires them. Then he leaves. Everything goes away. That's not good," Gelek Rimpoche said in an interview this week. "Somehow we try to maintain the energy that's generated by His Holiness, to serve the people and to make a difference in their life."
The rimpoche - the title is a Buddhist honorific meaning "Precious One" that refers to reincarnated lamas- will give a series of lectures in Ohio, Michigan, and Illinois in May with the same title as the Dalai Lama's Ann Arbor lectures, "Engaging Wisdom and Compassion."
He will speak in Toledo at 7 p.m. May 10 at Toledo Botanical Garden.
"I try to mimic whatever His Holiness say," Gelek Rimpoche said with a friendly laugh.
A stocky man with a quick smile, a glint in his eye, and a raspy voice, the 69-year-old rimpoche is widely known for his ability to bridge Eastern and Western cultures.
He was born into one of Tibet's wealthiest families, but when recognized as a reincarnated lama at age 4 was taken to a monastery for training and lived an ascetic lifestyle.
He was one of the last lamas educated at Drepung Monastery before China took over Tibet in 1950.
"I took a lot of teaching from the same teachers as the Dalai Lama, from the same Zen masters," Gelek Rimpoche said.
After 10 years of trying to negotiate an understanding with the Chinese authorities, the rimpoche fled Tibet and found refuge in India.
He rebelled against his monastic lifestyle and renounced his monk's vows, although he continued to study Buddhism and became a Dharma teacher.
Today he wears a jacket and tie, not the saffron robes of a Buddhist monk.
"I'm not a monk!" he asserts. "I'm an ex-monk!"
He came to the United States in 1987 as a researcher at Case Western Reserve University, then moved to Ann Arbor and founded Jewel Heart, a Tibetan Buddhist center, in 1988.
His followers opened Jewel Heart chapters in Cleveland, Chicago, New York, San Francisco, and Lincoln, Neb., in the United States as well as centers in Singapore, Malaysia, and Holland.
The centers sprung up in places where the rimpoche taught, and students asked him for permission to start local chapters, according to Kathy Laritz, program director for Ann Arbor's Jewel Heart.
"It has been a very organic and grounded development based upon the response to him," she said. "Jewel Heart Ann Arbor is the hub of many chapters as this is Rimpoche's residence."
The Ann Arbor center recently moved into a spacious, modern facility in an industrial park just a few miles from its former home in downtown Ann Arbor.
The $1.5 million facility, with a large gathering room, bamboo floors, and posters of the Dalai Lama throughout, is still undergoing finishing touches for paint, trim, decorations, and the like.
Gelek Rimpoche said the responsibility of overseeing so many Jewel Heart chapters and visiting them to give lectures led him to limit their growth.
"About three years ago, four years ago, I stopped," Gelek Rimpoche said. "A group of people come and say they want to start a Jewel Heart but if you can't serve people, then becoming huge doesn't do you any good.
There's no point."
Gelek Rimpoche's 2001 book, Good Life, Good Death: Tibetan Wisdom on Reincarnation, became a bestseller, offering spiritual lessons to people of all faiths, not just Buddhists.
"I am not a missionary person. My job is to improve people's lives," Gelek Rimpoche said.
He has become a teacher to the stars, with such celebrity followers as the late poet Allen Ginsberg, composer Philip Glass, pop star Paul Simon, and rockers Patti Smith, Michael Stipe of R.E.M., Natalie Merchant, Paula Cole, and Laurie Anderson.
"Paul Simon, he's a good friend," the rimpoche said with a nod.
Gelek Rimpoche said his students are not necessarily Buddhists.
"They just want to help themselves. They are very intelligent people. They really know what they're doing and very keen to doing it," he said.
He has met the Dalai Lama a number of times and was the one who invited the Tibetan leader to Ann Arbor, where he will speak on April 19 and 20.
The only other U.S. stops for the Dalai Lama on this trip will be in Seattle, Colorado, and upstate New York, Gelek Rimpoche said.
"I have had the opportunity of meeting him, but His Holiness is His Holiness, Head of Tibet, and we are just simple little citizens, you know?"
Gelek Rimpoche said with a laugh.
Information on Rimpoche Gelek Nawang's Toledo visit, his Jewel Heart Tibetan Buddhist Center, and the Dalai Lama's Ann Arbor lectures is available online at www.jewelheart.org or by calling 734-994-3387.