Wesak celebrations at Indiana Buddhist Temple
ColomboPage News Desk, June 15, 2008
Fort Wayne, IN (USA) -- The familiar beat of rhythmic drums could be heard from afar. Children and adult devotees dressed in white carrying flowers and traditional flags walked in place.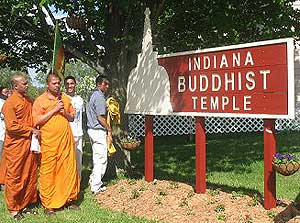 Three devotees adorned in Nilame attire, marched gracefully under the Muthu Kudaya, holding the relics of the Buddha in the Dathu Karaduwa. The Maha Sangha took calm, slow steps to the road that led towards the pond surrounded by trees swaying in the gentle breeze.
The Wesak procession was taken around the beautiful and tranquil temple grounds. The mid afternoon sun provided a perfect, picturesque atmosphere where over a hundred small lanterns hung around the temple grounds in preparation for the Wesak celebrations at the new premises of the Indiana Buddhist Temple on May 31, 2008.
Pirith chanting and meditation sessions were conducted by the resident monks and visiting monks from Burmese, Thai and Laos temples in Fort Wayne, Chicago and Pittsburgh, PA areas. Several Dhamma speeches were given discussing the traditions and history of Wesak and a special message to the children was delivered by the resident Monk Ven. Neluwe Seelawimala Thero. The renowned Ashirwada puja was conducted by Ven. Thalangama Devananda Thero, the chief incumbent of the Indiana Buddhist temple.
Several highlights of this year's grand celebration included the unveiling of the new eight foot tall Buddha statue in a glass covered shrine. The merit of this Punya Karma was in memory of Menik Wickremasinghe loving daughter of Dr. and Mrs. Mohan Wickramasinghe of Chicago.
Very skillful Dr. Tikiri Ratnayake gifted an artistically carved wooden name board to the Temple, which was also unveiled on the Wesak day.
The resident monks, Dr. Sisira Ranasinghe and devotees of the temple worked tirelessly for weeks to put together the fifteen pieces of beautifully painted forty-foot high Thorana (Pandol). The pandol portrayed the story of "Kattahari Jatakaya." which was related to the devotees by Ven Premaratana, visiting monk from the Pittsburgh Temple.
The cultural part of the program enjoyed by all was consisted of a Bakthi Gee performance by the children, a Bharatanatyam performance to famous religious songs, "Words of wisdom", a speech by a young devotee, a solo flute performance, a musical interlude by the American devotees of the temple. The program concluded with "Bakthi Gee sung by devotees of the Temple.
Over two hundred Buddhist and non Buddhist devotees and friends of the Temple mostly from Indiana and surrounding states attended the Wesak celebration. A few traveled from Washington DC, New York, North Carolina, and California.
The ceremony concluded with a "dansala" where Sri Lankan dishes were in abundance for everyone.