Buddhist group's flood aid brings tears and praise
By Molly Rossiter, The Gazette, July 3 2008
CEDAR RAPIDS, Iowa (USA) -- Eleven-year-old Brittany Gatewood helped her school raise money for victims of Hurricane Katrina and the tornado that leveled part of Parkersburg.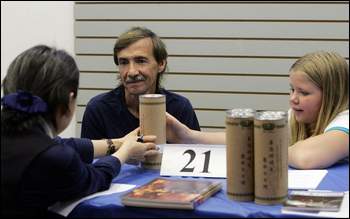 << Courtney Sargent/The Gazette A volunteer from the Taiwan Buddhist Tzu Chi Foundation hands Brittany Gatewood, 11, a piggy bank Thursday while talking with Brittany's grandfather, Don Gatewood, during an assessment of the damage to the Gatewoods' northwest Cedar Rapids home. The home is uninhabitable from floodwaters, so the foundation gave the family $800 in cash cards after the meeting at Westdale Mall.
On Thursday, she said, volunteers at the Taiwan Buddhist Tzu Chi Foundation told her that "what goes around comes around."
Gatewood's extended family was one of 300 families among the first to receive debit cards from the Buddhist organization Thursday at its temporary service center at Westdale Mall. The family — seven members of three generations — received $800, the most the organization is giving displaced families.
The foundation is in Cedar Rapids this weekend handing out debit cards to flood victims in the city whose homes were labeled with yellow, red or purple placards. Organizers said they will hand out an estimated $2 million in debit cards by Sunday afternoon.
The money has no stipulations, said Curtis Hsing, emergency disaster services coordinator for the foundation. People can use them to buy anything they need.
Don Gatewood, Brittany's grandfather, said the money his family received probably will go toward food and clothing.
The Gatewoods' home at 1616 Fourth St. NW has a red placard on it, but city officials told Gatewood they "might as well find somewhere else to live." The house is probably going to be bought out, Gatewood said, because one wall of the foundation caved in. A swimming pool in the backyard was destroyed by a neighbor's house.
The money probably won't last long, Gatewood said.
"We all walked out with no clothes, nothing," he said. "This will go to buy food for all of us, some clothes, gas to get to work so we can see how we're going to pay for a new place to live."
Norma Bierl, 80, wasn't sure what to do with the $500 she received. She's still not sure how her home at 1836 Ellis Blvd. NW, fared.
"They haven't even been in to examine the house yet," she said.
Bierl and her family lived in the house for 40 years, she said. Now she's staying with her son until she knows where she will need to go.
She is grateful to the Buddhist organization that came to Cedar Rapids to help.
"I can't believe it, I just can't believe it," she said. "Everyone has been so helpful."
Toni Meyers thought she had cried her last tear until volunteers at the foundation's center handed her $500 and gave her a hug. She and her husband are staying in a hotel after losing the house they rented at 612 Fourth St. SW.
As she walked out of the service center with a blanket given her by the foundation and her cash card, tears again streamed down her face.
"I don't know how I'm still crying," she said. "I've cried so much lately I shouldn't have anything left."