Foreclosure threatens Buddhist temple
By MARIE ROHDE, Journal Sentinel, July 12, 2008
Loan due on Caledonia site, but group can't pay full tab
Caledonia, WI (USA) -- The flagging real estate market is about to claim another victim - a tiny Buddhist temple on a 13-acre farm.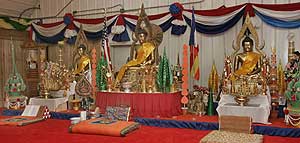 << A group of Laotian Buddhists converted a farmhouse in Caledonia into a Buddhist temple, but the mortgage has come due and the group can't pay the full amount.
The temple is also the heart and soul of the tiny Laotian Buddhist community in the Milwaukee area, a community of fewer than 2,000 people who consider the temple key to their cultural heritage.
Khamsanouk Laungphaxayachack wept as he spoke to a reporter Thursday about the dilemma his community is facing. He is a spokesman for the community and cosigned for the loan on the property.
Kham, as he is called, said the community pooled its dollars to acquire the property, at 8644 Highway V, in 2005. He said the community had a three-year adjustable-rate mortgage and had made the monthly payments until May, when the full note came due.
According to the Caledonia assessor's office, the Buddhists bought the property in 2005 for $378,000.
"We want to refinance but we can't get financing because of the economy," Kham said. "I asked, 'Can you extend it for one year,' and they said no."
The Milwaukee-based community doesn't have the cash to pay off the loan, he said.
"Our membership, they were laid off from their jobs," Kham said.
He said the community could continue making the monthly payments but can't come up with the full amount of the mortgage.
The holder of the temple's mortgage, Waterstone Bank SSB — formerly known as Wauwatosa Savings Bank — declined to comment beyond the lawsuit filed in Milwaukee County Circuit Court.
Buddhism was founded in Nepal around the 6th century and is one of the mostly widely followed religions in the world. Buddhists believe that spiritual fulfillment can be found by rejecting the attachment to self and the material world.
The community was dealt another major setback recently when its priest suffered a stroke, Kham said.
While the community wants to keep the property, Kham said, the threat of foreclosure has forced him to be a realist.
"I put up a for-sale sign," he said. "What else can we do?"