At law school, mindfulness requirement in mediation program triggers debate
By SHANNON BURKE, Columbia Missourian, February 13, 2005
In a letter to Chancellor Brady Deaton, an MU law student raises concerns about the topic?s religious overtones.
Columbia, Missouri (USA) -- When Leonard Riskin learned that third-year law student Andy Hirth found Jon Kabat-Zinn?s lecture at the Missouri Theatre to be religious in nature, the MU law professor was shocked.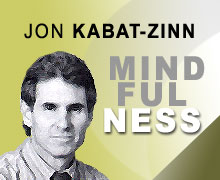 ?I was totally surprised when he said what Jon Kabat-Zinn did was religious,? said Riskin, who is in charge of mindfulness programs at the MU School of Law. ?That seemed almost inexplicable.?
Although mindfulness has been a beneficial practice for some, Hirth and other law students are raising questions about the university?s involvement in mindfulness initiatives.
Mindfulness is a set of practices that incorporates mediation, yoga and other techniques to help practitioners achieve a greater sense of focus and concentration.
Kabat-Zinn?s lecture sparked Hirth?s concern that the Law School?s mindfulness program might be an improper endorsement of religious beliefs by a public institution.
Although proponents of mindfulness insist that the practice is secular, Hirth said he sees mindfulness as potentially religious. He sent an
e-mail to Chancellor Brady Deaton, University of Missouri System President Elson Floyd, Riskin and Lawrence Dessem, dean of the Law School, expressing his concern that the university may be inadvertently promoting a specific religious belief through mindfulness.
?My concern is more that the state shouldn?t be sanctioning any kind of religion,? Hirth said. ?It?s just not the state?s place to do that. (Mindfulness) seems potentially inherently Buddhist to me, and a lot of people don?t think that?s threatening, but I think that any incursion by religion into the state is threatening.?
Hirth said he sent the e-mail with the intent to spur discussion, not to persuade the university to stop the mindfulness initiative in the Law School.
?I had no delusion that the program was going to go away,? he said. Although he has no problem with the university making mindfulness programs available, Hirth said such efforts should be through private organizations.
?The real issue here is what is the definition of religion,? Hirth said. ?I think it?s easy for people in Western society to identify when Christianity gets brought in by the state because it?s very familiar to most people,? he said. He noted that other religions, like Buddhism, might not be as recognizable to many Americans.
?There has to be a restriction on what the state can tell you to do,? Hirth said. ?My concern is that the university doesn?t consider mindfulness religion because it only considers Western, theistic religions to be religion, and I think that definition needs to be broader.?
Hirth thinks the definition of religion should go further than mentioning God, because although mindfulness does not mention God, he thinks there are other religious undertones to mindfulness. Hirth said he is also concerned that mindfulness practice sanctioned by the university may guide people toward Buddhism.
?Even if the program were entirely stripped of references to anything that could be considered religious, it seems like the program is kind of a gateway to get people interested in Buddhism, which I don?t think is appropriate either,? he said.
Deaton wrote in a Feb. 3 response to Hirth?s e-mail that MU routinely invites speakers and performers to campus ?to expose our students to many ideas and experiences both inside and outside the classroom.?
?While it is not within our purview to teach religious practices, we do encourage a free exchange of ideas about religion,? the chancellor?s response read.
To further the discussion about mindfulness in the Law School, Hirth and Jay Hastings, a student colleague who has been through mindfulness training at the school, decided to hold a debate on the issue. The debate will take place at 1 p.m. Thursday in Hulston Hall, Room 6. The debate will be open to the public.